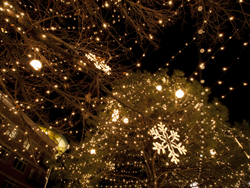 In addition to helping our students celebrate the holidays, we want to show our appreciation to the communities, which support us all year-round.
Canadian, OK (PRWEB) December 19, 2014
Eufaula, Oklahoma, located just 9 miles from Narconon Arrowhead, is home to Lake Eufaula, the state's largest lake with more than 600 miles of shoreline. This lovely lakeside town is home to a little more than 3,000 residents, hosted its annual old-fashioned holiday parade at 1:00 P.M. on Saturday, the 6th of December.
Featuring Santa, Christmas lights and parade floats, it made its way through downtown Eufaula on Main Street. Narconon Arrowhead's parade float participated in this holiday celebration with its neighboring community, sharing its drug-free message of having Happy Sober Holidays with attendees all along its route.
The small local community of Checotah, Oklahoma also boasts a population of 3,000 plus residents, and is located about 24 miles from Narconon Arrowhead. This close knit community celebrated the holiday season with its annual parade, the Checotah Christmas Parade 2014.
Checotah kicked-off this year's holiday season with the Christmas Parade and the Tree Lighting. The 2014 parade featured Santa Claus, horses, marching bands, floats, clowns, antique cars, fire trucks and tractors. It began later in the afternoon at 4 o'clock in the afternoon also on Saturday, the 6th of December.
Parade participants included the Shriners, Civic groups, local churches, volunteer fire departments, marching bands, youth groups and the Saddle Club. There was a Best Floats Competition with prize money awarded, and Narconon Arrowhead took home 3rd place this year!! .
Following the parade, was the official lighting of the Checotah city Christmas tree in Pocket Park, along with holiday music by the local high school music department and free refreshments are certain to make a wonderful start to the holiday season. Narconon Arrowhead staff and their families enjoyed the festivities while handing out information on substance abuse and the importance of helping someone who may be struggling with addiction during the holiday season.
Narconon Arrowhead
Although Narconon has been in Oklahoma since 1989, Narconon Arrowhead first opened its doors at its present location in Arrowhead State Park overlooking the shores of Lake Eufaula when it relocated there 13 years ago. It daily carries out its mission of saving lives from the ravages of alcohol and drug abuse, and has successfully helped thousands of people to overcome and recover from their addiction and substance abuse.
As an effective drug rehabilitation and education center, Narconon Arrowhead has a long-standing tradition of holiday events which contribute to the local communities. The annual building and manning of a Christmas parade float by the staff and students on the rehab program at the center is one way that Narconon Arrowhead gives back to its surrounding communities.
The executives and staff of Narconon Arrowhead know that the building and manning of the Christmas parade float and the message of help and hope that it brings to those who build it and those who view it is an important part of celebrating the holidays. It is also a way of showing appreciation to the neighboring communities that support the rehab center through the year.
To learn more about Narconon Arrowhead and its drug-free approach to rehabilitation, please visit their website at http://www.narcononarrowhead.org.