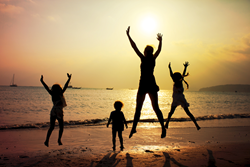 The purpose of Family Fun Month is to spend time together enjoying things as a family; creating good memories and establishing long-term family traditions.
Canadian, Oklahoma (PRWEB) August 18, 2014
The Importance of Family
Narconon Arrowhead executives and staff recognize that the family is the basic building block of our society. It is the first group we belong to as a child. It is the source of our upbringing and the values which we learn to live by.
If is from out parents that we first learn how to treat our siblings and other children. It is where we learn how to share, and how to be kind and diplomatic with others. It is where we learn respect for others and their property. It is from members of our family where we learn about friendship and loyalty. It is with our family we find shelter from the storm of life.
The foundations of our basic education about life and how to live it will be learned in our family.
In this small and closely-knit group, we will learn right from wrong, good from bad, and what is valued and what is not. We will learn the guiding standards of achievement and the measures of failure, and what is really important to living a good and decent life.
It is from our family, as well, where we will learn whether or not drug and alcohol use is acceptable, and whether or not its consumption is regarded as necessary to "having a good time."
Family Fun Month Activities
Many families participating in summer activities in general, and also participating in Family Fun Month as the summer comes to a close, will choose activities which are centered on sports, enjoyment of the outdoors, cultural opportunities, and food and fun.
A few common Family Fun Month activities which invite inclusion and participation from all family members both young and old include such things as:
➢ Visiting the local park together, and taking a picnic along. Some in the family might enjoy bringing a soccer ball or a Frisbee for added fun.
➢ Families who live in a location with easy access to the beach or mountains might want to plan a day of beach activities, a hike in the mountains, or even a camping trip for true outdoor enthusiasts.
➢ Concerts or movies in the park are often a summertime activity provided by the community. An evening under the stars listening to music or watching a good family movie is a special time for everyone.
➢ Experience your community together by visiting the library in search of good books; by attending the local Farmer's Market to shop for some healthful food while supporting your local growers; or by attending a local art/artisans show. Such activities provide an opportunity to learn and experience new things.
➢ Plan and shop for a special family cook-out or barbeque. Add some homegrown and creative entertainment provided by family members. Take some pictures, and create a collage as a related art project all can participate in and enjoy.
Each family has its own creativity and activity preferences. There are nearly unlimited opportunities all around us for families to have fun together, and it need not require unlimited funds, or travels far from home. In celebration of Family Fun Month, everyone in the family can put their heads together to come-up with great ideas and activities to be enjoyed and remembered by all.
Tips from Narconon Arrowhead
It is vital to a safe and enjoyable Family Fun Month that activities do not involve the use or abuse of drugs or alcohol. While our society is currently inundated with advertisements promoting alcohol as an important to having a good time and drug and drug use is rampant, true happiness does not come from experiencing the risky and potentially fatal consequences of mixing drugs and alcohol with family activities intended to be fun.
To that end, Narconon Arrowhead will be releasing tips for keeping your family drug-free throughout its activities during the month of August.
The Oklahoma-based drug rehabilitation and drug prevention education facility knows the value and importance of a family being able to enjoy Family Fun Month without the adverse consequences of drug and alcohol use, and will be publishing timely and informative blogs on its main website to help you and your family stay safe and sober.
For more information call 800-468-6933 or visit http://www.narcononarrowhead.org.
Source: http://www.scmaf.org/Top_Nav/aboutSCMAF/newsarchive/August_is_Family_Fun_Month_.htm