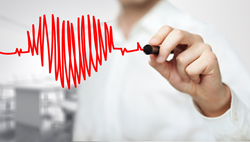 Narconon Arrowhead supports American Heart Month and its focus on heart disease prevention.
Canadian, Oklahoma (PRWEB) February 19, 2015
Sponsored by the American Heart Association, American Heart Month is observed in February each year. Heart disease is a leading cause of death in the United States for both men and women. It accounts for one in every four deaths annually nationwide.
Preventing Heart Disease
American Heart Month focuses on heart disease prevention. Americans are encouraged to manage health conditions, and make healthy choices to prevent heart disease and enhance overall heart health.
Raising awareness of heart health and ways to prevent heart disease goes far in helping individuals, healthcare providers and communities implement effective prevention actions to increase heart health. A healthy heart contributes to overall better health, and a longer and more active life which can be enjoyed.
During American Heart Month, individuals and families are encouraged to implement simple lifestyle changes which contribute to better health, and better heart health. A more nutritious diet and suitable daily exercise are a good start.
Fundamental lifestyle changes such as losing excess body weight, quitting or cutting back on smoking, quitting or cutting back on alcohol consumption, and quitting drug use require fortitude and commitment, but ultimately are the best heart health prevention.
Heart Health Guide to Addiction Recovery
Narconon Arrowhead recognizes the link between drug and alcohol abuse and heart disease.
The heart-damaging consequences of drug use can range from an abnormal heart rate all the way to heart attack and cardiac arrest, depending on the drug of abuse.
Injection drugs are cited by the National Institute on Drug Abuse (NIDA) as causing cardiovascular problems which include heart-valve infections.
Other drug abuse-related adverse effects on the heart include:
➢ Increased heart rate
➢ Irregular heartbeat
➢ Disturbances in heart rhythm
➢ Infection in the heart valves
➢ Infection in the heart lining
➢ Heart valve disease
➢ Heart failure
➢ Cardiac arrest
➢ Death
As an important part of addiction recovery, Narconon Arrowhead releases the following heart health guide focusing on raising awareness and implementing simple action to improve heart health.
Reduce Stress in Your Life
Stress is known to raise heart-rate and blood pressure. Locate some sources of stress in your life, and take simple actions to reduce and/or eliminate them.
Consume a Heart-Healthy Diet
Educate yourself on a heart-healthy diet that suits your lifestyle, and your personal likes and dislikes. The basics of a heart-healthy diet include fresh fruits and vegetables, and is rich in fiber.
Achieve Your Optimum Weight
Excess weight stresses the heart. Establish your optimum weight, and set realistic goals to achieve and maintain it.
Get Daily Exercise
Exercise goes far in maintaining overall physical health and well-being. Enjoyable exercise appropriate to your physical condition, health and age can go far in supporting heart health.
Practice Moderation
Moderation in your consumption of caffeine and sugar is suggested. If you still smoke, consider cutting back. Quitting would be best. If you still drink alcohol, be temperate. Quitting would be best.
Do Not Take Harmful Drugs
Taking harmful drugs, whether illicit street drugs or prescription painkillers, has consequences. Addiction recovery, heart health, and the quality and quantity of your future all depend on the decision to not take harmful drugs, and to do whatever is necessary to stand by that decision.
Narconon Arrowhead invites others to support heart-healthy addiction recovery during American Heart Month, and beyond. For more information call 800-468-6933 or log into http://www.narcononarrowhead.org.
Source:
http://healthfinder.gov/nho/PDFs/FebruaryNHOtoolkit.pdf