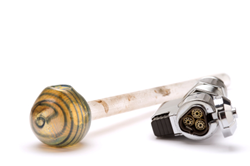 The poisonous ingredient in Lithium Meth is Lithium.
(PRWEB) June 03, 2015
According to news published today on KOKO.com, Oklahoma City, meth use remains a problem in the state even though busts have decreased. One major issue Oklahoma is struggling with is Lithium Meth. Lithium is one of the chemical elements. It is a soft, silver-white metal. According to MediLine Plus, the poisonous ingredient in Lithium—is Lithium.
Lithium is used in a variety of batteries, dyes, ceramics, glass, and rubber products. It is used to fuel torpedoes. It is often used in chemical compounds such as the Lithium Deuteride in H-bombs. And it is used in the manufacture of methamphetamine with potentially grave physical and mental consequences.
Lithium Carbonate—a lithium salt—is used as a "mood stabilizing" drug. According to NetDoctor.com, it is not really known how lithium works when used for this purpose. One can't help but speculate as to the wisdom of treating mental issues with an elemental metal used in H-bombs and torpedo fuel.
What we can know are the very real and observable risks and dangers of Lithium and Lithium toxicity to those who manufacture and use Lithium Meth.
Cooking Meth Using the Nazi Method
During World War II, the German government made methamphetamine using Lithium from batteries, hence its name—the Nazi method. It is also less commonly known as the Birch reduction method.
The Nazi method of cooking meth combines the essential ingredients of ephedrine or pseudoephedrine with the additional ingredients of anhydrous ammonia—a liquefied fertilizer; and Lithium—a metal taken out of lithium batteries. The essential chemical reaction of changing ephedrine or pseudoephedrine into meth requires the anhydrous ammonia and the Lithium.
Energizer AA Lithium batteries are frequently cut open to extract the 3x Lithium strips, and a cursory search online shows both written and video instructions on cutting open the batteries to get the Lithium, and suggesting how to store it until it is needed in the Nazi method of manufacture.
[Source: http://www.justice.gov/archive/olp/methawareness/
Lithium Toxicity
Lithium toxicity is caused by a high level of lithium in the body. It is potentially dangerous with severe side-effects.
There are warning sign of Lithium toxicity that include:
➢ Lack of appetite.
➢ Diarrhea.
➢ Vomiting.
➢ Blurred vision.
The loss of body fluid caused by diarrhea and vomiting can result in dehydration, which further increases the Lithium levels in the person's body.
A more dangerous level of Lithium toxicity is signaled by:
➢ A marked tremor—shakiness.
➢ Confusion.
➢ Unsteadiness.
➢ Slurred speech.
➢ Drowsiness.
Signs of even higher levels of Lithium toxicity include:
➢ Increased severity of drowsiness
➢ Increased severity of confusion.
➢ Increased severity of confusion and drowsiness.
➢ Fits.
➢ Unconsciousness.
If someone using Lithium Meth, or Lithium in any form, exhibits any of the above symptoms or signs, whether mild or severe, it is recommended that you seek medical attention immediately.
How Lithium Meth Can Affect the Mind
Robert "Bobby" Newman, Public Relations Director of the Oklahoma-based long-term drug and alcohol rehabilitation center, Narconon Arrowhead, says the meth-addicted patients at the center experienced "severe mental consequences" as a result of using lithium-containing meth.
"Meth and its chemicals are known to permeate the brain and linger", says Newman. He cites the instance of one meth cook adding "2 to 3 times the amount of Lithium" to the meth he manufactured to cause "the schizoid effects."
The dangers and risks of the Nazi method--and using Lithium Meth--are very real. Damage ranges from mild lithium toxicity to psychotic breaks and suicide. Get help if you are abusing Lithium Meth by calling 800-468-6933 or log into http://www.narcononarrowhead.org.