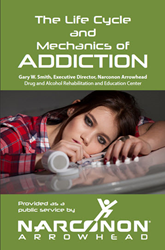 Narconon Arrowhead has long provided drug prevention and education materials and services to the public at large in its ongoing effort to bring about an understanding as to the truth about drugs; insight into the actual mechanics of addiction.
(PRWEB) September 09, 2014
The newly released issue in the Life Cycle and Mechanics of Addiction series was written by Gary Smith, Executive Director of the Oklahoma-based Narconon Arrowhead drug rehabilitation center. Smith has decades of experience in the field of drug rehabilitation, and is an expert in his own right on the subjects of addiction and recovery.
The information is being provided by the center as a public service, and is information any person can use to bring about a greater understanding of what drives a person to addiction; why it is so difficult to break-free from addiction once trapped in it; what drives a person to relapse and reversion--and how we can truly help a person achieve a maintain long-term sobriety.
Different Schools of Thought
There are currently a number of schools of thought in vogue as to the cause of addiction, and its cure. These different philosophies of addiction are briefly reviewed as part of the information, and it is pointed out that the drug treatment programs based on these theories can only claim recovery rates of 16 to 20 percent.
It is also noted that what can be known about addiction, regardless of the school of thought subscribed to, is the fact that for most addicts, there only three possible outcomes as a result of their addiction—sobriety, prison or death.
A New Look
In the Life Cycle and Mechanics of Addiction publication, Smith presents us with an insightful look stemming from a different school of thought, and one which is universally applicable to addiction. He discusses how the life cycle of addiction begins, and how and why it is that a person begins to use drugs and/or alcohol that have the potential to become addictive.
Smith also discusses how addiction begins with a problem, the influence of peer pressure, how drugs and alcohol seem to provide the person with relief—and where that leads.
Presented in easy-to-understand language which enables a person to assimilate and use the information, Smith further explains addiction, and its downward spiral; how the addict accumulates more and more damage unto himself or herself; and how he or she ultimately ends-up in despair and misery—the downward spiral of addiction.
Barriers to Recovery
Perhaps most revelatory as well as being a uniquely workable approach to true recovery is the information provided as to the actual barriers to recovery which the addict and alcoholic experience and must deal with.
Cravings, the first barrier to recovery which is presented and discussed, is perhaps the single most common reason why addicts fail to recover, and is the key source of the addict getting caught-up in the rehab-relapse cycle which both prevents long-term recovery and puts the addict at risk of overdose.
Depression is generally a much discussed issue by some schools of thought as a source of addiction. But in Life Cycle and Mechanics of Addiction, it is presented and discussed as the second barrier to recovery, and is identified as another factor that keeps the addict trapped in addiction.
Guilt is presented and discussed as the third barrier to recovery which the addict faces, and is the third factor in the trap of addiction. Because the addict is basically good—as most people are—he or she will experience guilt as a result of the dishonest conduct and deeds which they engage in as drug addicts and alcoholics. It is cited and explained as an integral part of addiction.
Overcoming the Barriers
Smith wisely completes his educational treatise on the issues of addiction and the barriers to recovery with information and resources as to how a person can actually turn the corner to recovery for the long-term. It is highly recommended that anyone seeking useful and practical information on substance abuse—what it is and what to do about it—read The Life Cycle and Mechanics of Addiction by Gary W. Smith, Executive Director of Narconon Arrowhead.
Click here to download the booklet now.