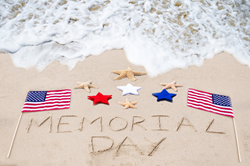 Following a few commonsense guidelines can help Americans celebrate and enjoy a safe and drug-free Memorial Day.
Canadian, Oklahoma (PRWEB) May 20, 2015
Memorial Day is a national holiday dedicated to the remembrance of all Americans who were killed in active military service. It began as Decoration Day after the Civil War in which tribute was paid to all the Confederate and Union soldiers who lost their lives in America's Civil War. Over time, Decoration Day became known as Memorial Day. Our nation has since engaged in other military conflicts, and after World War I ,Memorial Day came to include paying tribute to all American military personnel , both men and women, who gave their lives in service to their country.
It has also become a holiday which traditionally kicks-off the start of the summer vacation season, and is celebrated over the Memorial Day Weekend.
Celebrating Memorial Day.
While we continue to honor our fallen soldiers, America also celebrates Memorial Day with parades in communities and cities across the nation. New York City, Chicago and Washington, D. C. host the largest parades. Americans across the nation visit cemeteries and memorials, paying their respects to the fallen. The tradition of prayers, flowers and a flag at the grave of a soldier is still honored.
Memorial Day is the holiday which officially starts the summer season. Americans celebrate it with outdoor recreational activities, parties, barbeques and get-togethers with family and friends. Memorial Day Weekend activities include travel, camping, boating, swimming, and a host of fun activities with family and friends. Perhaps we can regard our Memorial Day activities as a celebration of life in honor of those who lost theirs on our behalf.
Narconon Arrowhead Memorial Day Guide
Celebrating an enjoyable and memorable Memorial Day Weekend includes adhering to some basic, commonsense guidelines focused on keeping everyone safer and happier.
Many Americans take to the road for the Memorial Day Weekend. Favorite destinations include the beach, the lakes, the mountains, the campgrounds, and other favorite recreational haunts. Many Americans will include alcohol consumption as part of their holiday activities. Some will be tempted to use drugs.
Narconon Arrowhead, in the interest of a safer and drug-free Memorial Day, suggests the following commonsense guidelines:
Travel Sober and Safe
If you choose to drink alcohol, use moderation.
Do not drink and drive. Do not ride with another who has been drinking or using drugs.
Do not drink or use drugs before taking the boat out on the lake, the off-road vehicle out into the hills, or a trail bike out on the trails.
Encourage those around you not to drink or use drugs. It puts them—and you—at risk.
Enjoy the Water
Ensure basic water safety rules are known and followed by family and friends.
Each person, children and teens especially, should know what actions to take in the event of a water-related emergency.
Wear life vests when water skiing and boating, and follow lake and waterway rules.
After eating, wait at least 30 minutes before swimming. Swim with others, and not alone. Children should be supervised at all times near water and when swimming.
Do not drink or use drugs when engaged in water-related sports and activities.
Outdoor Basics
Respect the environment. Wear proper clothing and footgear. Ensure you have adequate drinking water. Know your basic first aid. Keep a basic First Aid Kit to-hand when camping, hiking, boating and participating in other outdoor recreational activities.
Using alcohol and drugs lowers awareness, clouds judgment, diminishes motor skills, and puts you and those around you at risk. Ensure you and those you love don't join the fallen soldiers this Memorial Day due to substance use and abuse.
The executives and staff of Narconon Arrowhead wish you a sober, safe and enjoyable Memorial Day Weekend. For more information call 800-468-6933.
Source: http://www.thv11.com/story/news/local/2014/05/23/5-safety-tips-for-memorial-day-weekend/9479843/