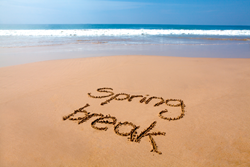 Whichever destination is chosen, there can be risks for spring breakers. Destinations widely known as a location to congregate and party, likely pose the greatest risks of all.
Canadian, Oklahoma (PRWEB) April 04, 2015
College campus police recommend trusting your instincts in Spring Break situations or surroundings that put you ill at ease. Narconon Arrowhead issues guide to a safe and sober Spring Break 2015.
Spring Break Destinations
College-age students across the nation will celebrate Spring Break as Easter approaches. Traditionally a week-long break from the rigors of studies, for many it is now a party-destination week of drinking, drugs and all that goes along with it.
Warm, beachside destinations in Florida remain extremely popular for college students free to travel during Spring Break. Beach destinations outside the U.S. lure some to their shores. Others seek cold-climate destinations for winter sports and activities. And there are college students who still take the opportunity to go home, and spend time with family.
The Spring Break revelry of today's youth frequently includes alcohol consumption, drug use, and situations which potentially endanger safety and wellbeing. Young men and women who are drunk or high can put themselves at great risk of physical and mental harm due to lowered awareness, lack of clear thinking and consequent errors in judgment and decision-making.
Narconon Arrowhead Guide to a Sober and Safe Spring Break
Whichever destination is chosen, there can be risks for spring breakers. Destinations widely known as a location to congregate and party, likely pose the greatest risks of all. Following a few simple common-sense guidelines can go far towards staying safe and sober, and able to truly enjoy Spring Break.

Trust your instincts. Some call is "a sixth sense." If you sense that a person is attempting to scam you, separate you from your group of friends, somehow put you in a vulnerable situation, take your money, or get into your room—trust yourself. Don't get into the situation.
If you do get yourself into a situation like one mentioned above, take effective measures to get yourself out of it as quickly as you can.
Do not go anywhere alone. Do not let a friend go anywhere alone. Never go off alone with a stranger, and never let a friend go off alone with strangers. If you are at a travel destination away from home and in unfamiliar surroundings, this is extremely important.
"Do not drink" is the safest choice. If you do drink, drink in moderation and not to excess.
Ensure you have sober friends who will watch out for you if you drink, and will keep you safe.
Inform your friends and family of your travel plans, your destination, and how you can be contacted there. Let them know when you are leaving, and when they should expect your return.
Keep your valuables safe. Lock them in the hotel safe, or the locked trunk of your car.
Keep yourself and your friends safe. Criminal elements frequently come to known Spring Break destinations to steal, prey-upon, or deal drugs to vulnerable and unsuspecting spring breakers. Remain alert to individuals who don't fit in, and are obviously not spring breakers.
Don't use harmful or illegal drugs. While some locations allow recreational marijuana use, it remains harmful nonetheless. Illegal drug use carries both the harm of the drug itself, and the legal consequences of its use. State laws vary on alcohol consumption, open containers, marijuana possession and use, and severity of penalties for possession, use or sale of illegal drugs. Know before you go, especially when going outside the country.
Observing the above basic guidelines lead the way to a safe and sober Spring Break. Call Narconon Arrowhead today for more information or to help someone with a drug or alcohol problem.