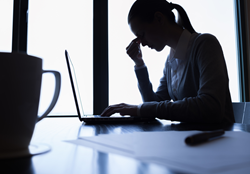 Many people resort to alcohol or drugs as a means to cope with stress, but there are less harmful and healthier ways.
Canadian, Oklahoma (PRWEB) April 13, 2015
National Stress Awareness Month
Federal Occupation Health (FOH) is an agency within the U.S. Department of Health and Human Services (HHS). Its purpose is to improve federal employee health, safety and productivity. Over the years, FOH has implemented many programs to improve employee health and fitness, prevent and reduce workplace injuries and illnesses, and decrease absenteeism and turnover of employees.
National Stress Awareness is an FOH campaign focused on helping people better understand, manage and deal with stress in ways that improve health, wellbeing and quality of life.
The April 2015 campaign is "Take time to unwind…It's healthy to relax, renew and rejuvenate." It highlights the need to set-aside time for oneself, and engage in stress-reduction activities that increase relaxation and better help a person deal with life stresses.
People react to stress in different ways. According to FOH, long-term stress may lead to a broad range of illnesses. Headaches, stomach disorders, depression, increased risk of stroke or heart disease have all been linked to stress at some level.
FOH highlights that understanding the mind-stress-health connection helps a person better manage stress, and thus improve health and wellbeing.
The Mechanics of Stress
The automatic nervous system response to stress or a threat to survival is designed to mobilize quick reflexes in the event of imminent danger. We have all experienced the rush of adrenalin when we have a "close call", such as a narrowly avoided car accident.
Imminent threats to survival, or perceived threats to survival, cause a rush of stress hormones into the bloodstream. Heart rate, blood pressure and glucose (blood sugar) levels all increase. Hormones that suppress other body functions such as the immune system and digestion also release into the bloodstream, all with a focus on immediate response to a survival threat.
Danger or perceived danger can trigger this stress response. And in today's modern world, the stress response is often triggered by financial worries, work conflicts, anxiety or bad memories. Long-term stress over weeks and months can suppress the immune system, dampening the immune response and increasing the risk of illness or disease.
A Guide to Drug Abuse Prevention
Stress can also trigger alcohol or drug use; increasing the risk of abuse and addiction and threatening the sobriety of those in recovery. Drug and alcohol-abuse prevention is a vital aspect of managing and minimizing stress.
Narconon Arrowhead, a long-term drug rehabilitation and education center in Southeastern Oklahoma releases the following guide to drug abuse prevention in support of National Stress Awareness Month:
Recognize Your Sources of Stress
Identify those individuals, issues and situations which are a source of stress. Recognizing the source is the first step to doing something to improve the situation. Focus on those things that make you feel calm, and in control. Consider some simple changes you can make to minimize the sources of stress.
Eat a Healthy Diet
Good, nutritious food is a source of fuel and energy for the body. Stress depletes needed nutrients and reserves. Keeping the body well-fed is a stress-reliever, and proofs the body up against stress. Drugs and alcohol deplete the body of needed nutrients, causing one to feel worse.
Exercise
Exercise is an excellent way to relieve stress. It increases health, and overall physical and mental wellbeing. The brief false high or false sense of wellbeing derived from drugs or alcohol is a poor and fleeting substitute.
Get Adequate Sleep
Lack of adequate sleep is a stressor itself. Lack of sleep-caused fatigue leaves one more vulnerable to the ill effects of stress. If you have trouble sleeping, there are many natural remedies and solutions available without resorting to drugs or alcohol as a solution.
Relax and Unwind
Learn to relax and unwind without turning to drugs or alcohol. Yoga, meditation or a spiritual pursuit of your choice has lasting benefits which far transcend the brief relief obtained from using drugs or alcohol.
If you know someone under stress who is using drugs or alcohol to cope, contact us today or call toll free at 800-468-6933 to get them help.