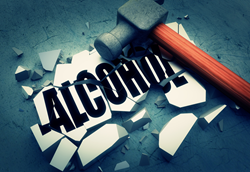 Thanksgiving is among the top three most dangerous U.S. holidays for auto-related fatalities, with significantly more people on the road, and higher than usual alcohol consumption.
Canadian, Oklahoma (PRWEB) November 24, 2014
Thanksgiving is one of our nation's most cherished holidays, and a time when families traditionally get together to celebrate it. Going home for Thanksgiving, or getting together with family, routinely involves travel. Unfortunately, it all too frequently involves alcohol, as well.
Traffic Fatalities and Alcohol Consumption
According to RITA, the Research and Innovative Technology Administration of the U.S. Department of Transportation (DOT), an estimated 91 % of Americans travel by automobile to reach their Thanksgiving Day destination. Also during that Thursday-to-Monday four-day holiday weekend, the number of Americans on a road trip increases more than 50 percent.
According to the National Center for Statistics and Analysis, alcohol abuse is a main concern year-round; and especially during the holidays when driving-related fatalities are always higher than non-holiday times. Based on NHTSA statistics, it is the young drivers ages 21 to 24 who have the highest level of incidents which involve alcohol-impaired driving.
Furthermore, new statistics reveal that repeat, high-risk drunk drivers who have been court-ordered to be continuously monitored for alcohol consumption show violations increase about 54% on Thanksgiving Day; second only to the New Year's Eve and New Year's Day holiday when violations jump 62%.
Since the road is shared by so many Americans on their Thanksgiving Day holiday, it becomes important for everyone to do their part to prevent alcohol-related auto crashes, injuries and fatalities.
Thanksgiving Alcohol Prevention
Knowing that Thanksgiving is a high-risk holiday for alcohol consumption and over-consumption, Narconon Arrowhead is providing some alcohol prevention tips designed to help keep it safe and enjoyable for everyone.
➢ At your family gatherings, get involved in activities which de-emphasize alcohol. That includes placing the alcohol/bar in an out-of-the-way location, and assigning a responsible person to measure and pour the alcohol for those who want a drink.
➢ Be sure to provide a variety of non-alcoholic beverages which can include non-alcoholic beer and wine, sparkling waters mixed with juices, and even fruit and/or protein smoothies.
➢ Make food the focal point of your gathering, with high-protein meats and cheeses which help slow the absorption of alcohol into the bloodstream.
➢ Bring the party to an end gradually, and cease serving any alcohol at least an hour
before family and friends begin leaving. Time reduces the amount of alcohol in a person's system.
➢ When you are hosting a gathering of family and friends, it is your responsibility to ensure that each car leaving at the party's end has a designated driver who is sober.
➢ Be prepared, and if someone has had too much to drink and does not have a designated driver, plan to have them stay at your house overnight.
And always remember this simple and potentially life-saving tip, perhaps the most important one of all. If you are going out and plan to drink, then plan for a sober driver, too. If you don't have a sober driver, call a family member of trusted friend who is sober to come and get you; or call a cab to take you home.
Remember that the actions you take to keep yourself and your loved ones safe over the Thanksgiving holiday by not over-indulging in alcohol or driving under its influence helps to keep others and their loved ones safe, too.
Narconon Arrowhead wishes everyone a happy and safe Thanksgiving Day holiday, and continues to provide its drug prevention education and drug rehabilitation services throughout the holiday season.