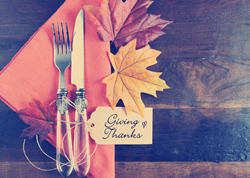 Thanksgiving can be difficult for those in treatment for addiction and substance abuse. They are often far away from family and friends, and are missing the traditional holiday observance.
Canadian, Oklahoma (PRWEB) December 08, 2014
A Family Holiday
Thanksgiving is traditionally a family holiday and is most often shared families and friends. It is a time when many make the trip home, with up to 91% of Americans traveling the highways and byways by automobile in order to arrive home, or at their Thanksgiving Day destination.
For those in rehab or treatment, going home is not an option. It can present too many risks for the individual who is still working to overcome their struggle with addiction. And while families are routinely happily relieved and filled with hope that their loved one will once again be able to live a sober life, they too miss having their loved one present with them for Thanksgiving.
The executives and staff of Narconon Arrowhead, the effective rehabilitation center located in Arrowhead State Park in Southeastern Oklahoma, have long been aware that Thanksgiving is potentially a difficult time for clients, as well as their families.
Being away from home and away from family and friends during the holiday can be stressful for the person in rehab. It is also likely the first holiday in many which was not spent drugging or drinking, and experiencing a sober holiday while still in rehab can be challenging for the person in recovery.
Holidays also tend to be a time of reminiscing, and remembering—both the good memories and the bad. It can be a time when emotions are felt more keenly, and losses and regrets can weigh more heavily. Loneliness haunts many during the holidays, and being far from home and family can make it felt more deeply.
The Thanksgiving holiday is an important time for loved ones to be together, and to that end, Narconon Arrowhead held its annual Thanksgiving Day dinner for all the clients currently on the Narconon program at the facility, inviting client's families and friends to join together at the center for a traditional, home-cooked Thanksgiving Dinner for everyone.
The 2014 Thanksgiving Dinner
In what has become an annual tradition of many years, Narconon Arrowhead strives to bring everyone together for Thanksgiving to celebrate life and recovery.
It is a time when families and their loved ones in rehab can spend a safe, sober and happy holiday together in a beautiful natural setting while enjoying a traditional and abundant home-cooked Thanksgiving Dinner.
Narconon Arrowhead clients and their families and friends are joined by staff, a number of whom are also far from family and home. It is a special time for all to come together, enjoy each other's company, and share the common bond of appreciating recovery and what it really means to everyone involved.
Served in the facility dining area, and cooked by staff and volunteers, the dinner is planned and prepared in the finest Thanksgiving tradition with abundant turkey and all its trappings; the side dishes and desserts, and much for which to be thankful.
For all those fortunate enough to be in rehab at Narconon Arrowhead, it is an opportunity to experience a happy and safe Thanksgiving Day holiday shared with family and friends. And has it has done for many years, Narconon Arrowhead and its staff continue to provide its much-need drug education rehabilitation services throughout the 2014 holiday season.
The executives and staff of Narconon Arrowhead wish everyone a safe, sober and Happy Holiday. If you or someone you love is still struggling with addiction, please visit http://www.narcononarrowhead.org.