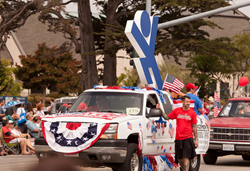 Sobriety is definitely part of being a responsible citizen. We're proud to return sober citizens to communities all over America.
(PRWEB) July 08, 2015
Around the U.S., Narconon rehab centers made sure their clients could participate in traditional Fourth of July celebrations this year. It's the same for every major holiday – it's important that those going through the transition from addicted to sober not feel like they miss out on these fun events. Of course, this time, the event is lacking drugs and alcohol that might have been present before they got to rehab. So for these individuals participating in this year's Independence Day festivities, it was a celebration of their freedom from drugs and alcohol as well as the nation's birthday.
At Narconon Louisiana, staff cranked up the barbecue and filled it with traditional fare – good old American hamburgers. A huge pile of fireworks stood at the ready and when it got dark, neighbors joined staff and clients to watch the display.
"Very often, before our clients arrive, they had no hope of spending any holiday sober," said Clark Carr, president of Narconon International. "They were driven by their need for drugs or alcohol every day and made many bad choices as a result, some of them life-threatening. By coming to Narconon, they have declared their independence from that enslaved lifestyle. We're proud to help them achieve the kind of sober life they were hoping for."
At Narconon Caliente in Nevada, staff escorted their clients to town to enjoy the celebration. At Narconon Arrowhead in Oklahoma, there's always an outing to Lake Eufaula, the largest lake in the state, just a short walk from the rehab facility. After staff and clients went swimming, it was time for hamburgers and hot dogs back at the lodge, with an extensive fireworks display after dark.
Staff and their families from Narconon Redwood Cliffs in Northern California appeared in Fourth of July parades in both Aptos and Watsonville. In both parades, they spread the message that a drug-free life can still be great fun.
"Narconon centers around the world are dedicated to only one thing: freeing people from addiction so they never have to be chained to drugs or alcohol again," said Carr. "Sobriety is definitely part of being a responsible citizen. We're proud to return sober citizens to communities all over America."
Narconon offers drug rehabilitation services at some 50 centers around the world. The Narconon rehab program was founded by William Benitez and utilizes the humanitarian works of American author L. Ron Hubbard in its recovery steps. For more information on the drug rehab program of Narconon, call 1-800-775-8750.