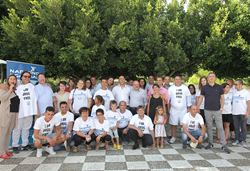 If it were not for Bill Benitez finding Mr. Hubbard through his writings...the Narconon program would never have happened. And I would not be here to celebrate my fortieth year of sobriety
(PRWEB) February 25, 2015
It was 49 years ago, on February 19th, that the idea for a dramatically new type of drug rehab was born. On this date, an inmate of a state prison in Arizona made the decision to use what he had learned while overcoming his own heroin addiction to help others in the same situation. William Benitez made the notation on a calendar in his cell to start a program to be called "Narconon." After helping other inmates with their recovery, he went on to found the first facility in Los Angeles after he was released.
Fast forward 49 years and now the Narconon network of rehab and prevention organizations stretches around the world. This year, some of these centers paused in their work to mark the anniversary.
At a hotel in Budapest, the group Friends of Narconon, associated with the nearby Narconon Garab, held a lovely ceremony. Music, speeches and commendations for those who have helped make this center's success possible made the event festive. At Narconon Gabbiano and Narconon Astore, both in Italy, the staff took the time to enjoy their success and acknowledge the contributions of founder William Benitez and American author and humanitarian L. Ron Hubbard, whose books led Benitez to his new sobriety.
In Oklahoma, executives, staff and students at Narconon Arrowhead gathered to share stories about the program's humble origins and the current successes of students seeking sobriety at this center. Executive director Gary W. Smith, himself a graduate of the program in 1975, said, "If it were not for Bill Benitez finding Mr. Hubbard through his writings and the subsequent relationship that developed between these two men, the Narconon program would never have happened. And I would not be here to celebrate my fortieth year of sobriety. I know there are thousands like me that feel the same way."
Coinciding with the 49th anniversary, Narconon Redwood Cliffs also announced a milestone in their delivery of this holistic, drug-free rehab program. With the local mayor and sheriff present to cheer on the event, they graduated the 2,500th person from their program.
"For nearly five decades, our belief has been that addiction recovery does not need to involve the use of drugs," said Clark Carr, president of Narconon International. "We offer each person a healthy, deep detoxification to eliminate residues of past drug use and then teach them life skills, starting from simple communication skills and ending in a freshen-up of morals and values. For nearly five decades, this has been a winning formula that enables the majority of our graduates to live satisfying, sober lives after they go home."
Providing proof that this recovery philosophy works, multiple outcome studies performed by outside agencies or Narconon centers themselves have documented the success of graduates after completing the program. In the majority of cases, graduates were not only sober but also employed or in school, maintaining healthy relationships with their families, staying crime-free and showing other manifestations of knowing how to live a positive life. These studies can be found at: http://www.narconon.org/about-narconon/40-years-evidence-recovery.html.
For more information on the Narconon program, call 1-800-775-8750.