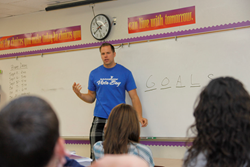 We educate youth on the harm done by abuse of any drug, including alcohol, and what can be accomplished in life by being one hundred percent drug-free.
(PRWEB) April 17, 2014
As related in a Los Angeles Times article last week, "Student's death in Colorado raises questions on pot and health", a 19 year old African college student tried marijuana for the first time in his life. After ingesting a marijuana cookie, he was affected much differently than he had been lead to expect. At first he became belligerent, and then fell asleep, but woke in the middle of the night and jumped to his death. This incident occurred in Colorado, a state which has recently legalized recreational marijuana use.
It is increasingly difficult for parents to know what approach to take towards their chil-dren's drug use. Stories such as the one above only confuse them more, contrasted with the positive marijuana support given by the state of Colorado. Some groups, like the Drug Policy Alliance, even counsel parents to expect "responsible" drug use by their children. The Narconon drug prevention viewpoint is that it's possible to raise fully drug-free youth.
"We're not alone in this viewpoint by any means," said Angie Manson, director of Narconon Redwood Cliffs. "We fully endorse the drug-free principles of the National Center on Addiction and Substance Abuse at Columbia University and its longtime director, Joseph Califano."
Narconon is an international network of rehabilitation and prevention centers, with Narconon Redwood Cliffs being located in Watsonville, California.
Mr. Califano's book, How to Raise a Drug-Free Kid, states: "Nearly two decades of CASA research demonstrate that a child who gets through age twenty-one without smoking, abusing alcohol or using illegal drugs is virtually certain never to do so."
"In the drug prevention curriculum we offer as a public service to our nearby communities, we don't encourage 'responsible' use," said Manson. "We educate youth on the harm done by abuse of any drug, including alcohol, and what can be accomplished in life by being one hundred percent drug-free."
Manson pointed out that some schools and youth groups are distributing the booklet Safety First from the Drug Policy Alliance that encourages "responsible" experimentation with addictive substances. Further, she warned parents that this booklet contains advice like this quote: "Some psychologists argue that given the nature of our culture, teenage experimentation with legal and illegal mind-altering substances should not be considered abnormal or deviant behavior."
"We would never suggest that using drugs, even briefly, should become expected behavior," said Manson. "Our experience has taught us that it is possible for children to be completely drug-free when the right steps are taken to educate them, really consulting their understanding so they learn to make their own informed decisions."
According to the website for the National Association of School Psychologists, this Safety First booklet has been issued as an official association communiqué to its members and the website Marijuana.com states that this booklet has been sent to all Parent-Teacher Association groups in California.
Narconon has for many years published its own guides of a different sort to make it easier for parents to achieve the goal of drug-free childhood for their sons and daughters. These materials are available for free or low cost from Narconon Redwood Cliffs. The titles include 10 Things Parents May Not Know about Marijuana, 10 Things Parents May Not Know about Prescription Drug Abuse, and Talking to Kids About Drugs.
For youth, titles include 10 Things Your Friends May Not Know about Drugs.
Each year, Narconon Redwood Cliffs staff fan out across the Northern California area to bring drug prevention classes to interested schools and youth clubs, reaching 20,000-plus children in an average year.
"We're doing everything we can to enable young people to grow up safe and drug-free," said Manson. "We strongly believe that our studied, evaluated drug education method is an effective way to help kids stay productive and safe from the tragedies of overdose or addiction. We believe that this is what parents truly want help with."
For more information on Narconon Redwood Cliffs rehabilitation or prevention services or materials, call 1-866-240-6145.