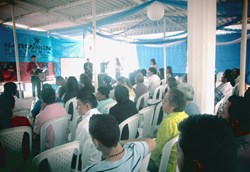 (PRWEB) August 22, 2013
In one of the world's hottest locations for drug manufacturing and trafficking, Narconon Colombia has been dedicated to eliminating drug abuse for two decades. The staff and supporters of Narconon celebrated this occasion with a party of more than two hundred people at their facility outside Bogota.
On Sunday, August 18th, 2013, the executives and staff welcomed graduates of the rehab program and their families, officials from Cundimarca Department, local medical doctors, police and business owners to the facility.
The high point of the event was the signing of a pact by all parties that they will work together to prevent the abuse of psychoactive drugs in El Colegio, Cundimarca, where the facility is located.
This Narconon center has enlisted the support of law enforcement and community members many times over its twenty year history. A widespread Narconon drug prevention project distributed more than a million drug education booklets into public hands in 2008. In 2009, law enforcement personnel learned how drug abuse leads to suicide and criminal activities in a presentation from Narconon personnel and Narconon drug educators had the chance to offer drug education lessons on the television station CARACOL. In 2010, police handed out Narconon anti-drug materials on the United Nations International Day Against Drug Abuse and Illicit Trafficking. In addition, the eighteenth of each month has been declared a regional day of anti-drug activities.
This time, Police Inspector Daniel Orlando and Mayor Gilbert Moreno Vargas were on hand to celebrate and add their names to the pact.
Colombia is not only an international hotspot for the manufacture of marijuana, heroin and cocaine, but the population also struggles with addiction to these drugs as well. Basuco, a contaminated form of unrefined cocaine, is distributed on city streets. It is very quickly addictive and causes rapid physical deterioration.
Those addicted to any of these drugs can find lasting help on the long-term drugless rehab program of Narconon Colombia. While Narconon Colombia has been helping for two decades, people in nearly fifty locations around the world have been finding help at Narconon centers for close to 50 years. With a high success rate, the Narconon program offers real hope to those who have lost the battle with drugs or drink.
For more information on Narconon, call 1-323-962-2404.