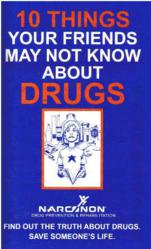 To help children and families stay free of drugs and to help encourage those experimenting with drugs to stop, we are offering a free booklet called '10 Things Your Friends May Not Know About Drugs.'
Clearwater, FL (PRWEB) July 04, 2013
Narconon East US is continuing their drug awareness and prevention campaign by offering a free booklet titled "10 Things Your Friends May Not Know About Drugs" to anyone seeking freedom from drugs in honor of the July 4th holiday.
The Fourth of July is a day that represents freedom from oppression. History lessons teach that July 4th, 1776 was the day the United Stated declared independence from the tyranny of Britain. It meant Americans no longer had to follow the orders of Britain's king which was extremely dangerous. At that time Britain had one of the world's strongest armies and to go against the king was a crime punishable by death. However, the king's laws were so unfair that our founders decided it worth the risk of war to win the freedom to govern themselves. In 1783, the new United States won that war.
"Today the media is full of reports about the current war American's are fighting against the oppression of drugs. This war is just as dangerous as the war fought in 1776 with 100 American's dying every day from RX drug abuse alone as reported by the Center for Disease Control (CDC or http://www.cdc.gov). Just two days ago on July 2, 2013, the CDC reported that deaths from opioid paid relievers (OPRs) increased fivefold between 1999 and 2010 for women," says Yvonne Rodgers, Executive Director of Narconon East US.
"To help children and families stay free of drugs and to help encourage those experimenting with drugs to stop, we are offering a free booklet called '10 Things Your Friends May Not Know About Drugs.' The booklet helps dispel many myths about drugs and provides the true data," says Rodgers.
Parents are encouraged to get this booklet and read it with their children. Teens whose parents talk to them regularly about the dangers of drugs are 42 percent less likely to use drugs than those whose parents don't. However, only a quarter of teens report having these conversations reports the National Institute on Drug Abuse.
Those wanting the free booklet can email info(at)narcononeastus(dot)org.
About Narconon East US
Narconon East US, located in Clearwater, FL, is a non-profit organization specializing in the establishment of drug prevention and drug rehabilitation centers. The Narconon was founded in 1966 by William Benitez and uses the drug-free rehabilitation and social education methodology based on research developed by American author and humanitarian L. Ron Hubbard. Narconon is dedicated to eliminating drug abuse and drug addiction through drug prevention, education and rehabilitation. The Narconon drug rehabilitation program routinely results in drug-free lives, with the majority of graduates going on to live stable, productive, drug-free lives. These Narconon graduates, whether drug-free for ten, twenty or even 45 years, demonstrate the success and results of Narconon program. If you know someone struggling with alcohol addiction or drug abuse, or are looking for a career in the field visit http://www.narcononeastus.org or call 877-237-3307.