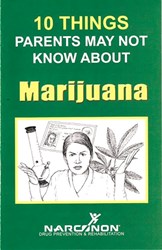 Parents can influence their children not to do drugs simply by talking to them about it. To help them we are giving away booklet titled, '10 Things Parents May Not Know About Marijuana.'
Albion, MI (PRWEB) September 13, 2013
Narconon Freedom Center, an alcohol and drug rehabilitation center, speaks out against the Justice Department's announcement on August 29th that they won't challenge state marijuana laws that allow for the medical and recreational use of marijuana as long as the drug sales do not conflict with eight new federal enforcement priorities.
The USA Today story of August, 29, 2013 (usatoday.com/story/news/nation/2013/08/29/justice-medical-marijuana-laws/2727605/), reports that the directive issued by Attorney General Eric Holder will apply nationwide, although it will largely affect the 20 states and the District of Columbia that allow for medical marijuana use, and affect Colorado and Washington where state laws allow medical and recreational use by adults.
"Our concern is that marijuana is a potent addictive drug and we have data from many participants of our program that marijuana was the first drug they tried as a teenager. It is often referred to as a 'starter' drug which leads the user to try stronger drugs. In many cases, this has led to abusing prescription pain killers. Teens learn by the examples parents set and legalizing marijuana only makes its use seem more acceptable. We are currently fighting the prescription drug epidemic and relaxing the laws on marijuana will only contribute to the enormous drug problem we are facing," said Brian Kuehne, Executive Director of Narconon Freedom Center Michigan.
A recent Yale University study reported by ctpost.com on August 21, 2012 (ctpost.com/local/article/Yale-study-Marijuana-may-really-be-gateway-drug-3805532.php) found that both young men and women who used marijuana were far more likely to follow this with abuse of prescription drugs with the risk for young men 250% higher.
When a person begins abusing marijuana in his or her teenage years, they have a one in six chance of becoming dependent on this drug. Withdrawal symptoms include irritability, insomnia, anxiety, nightmares, anger, fluctuating emotions, headaches, depression and loss of appetite.
"Parents can influence their children not to do drugs simply by talking to them about it. We are giving away a free booklet entitled, '10 Things Parents May Not Know About Marijuana.' Simply email narcononfreedomcenter@gmail.com to request a copy," said Kuehne.
For more information on how to get a loved one struggling with drug addiction on the road to recovery, visit http://www.freedomdrugrehab.com or call an Intake Counselor today toll-free 877-362-9682. All calls are free of charge and confidential.
About Narconon Freedom Center
Narconon Freedom Center, Albion, Michigan, is a non-profit alcohol and drug rehabilitation facility licensed through the state. The program has been helping those struggling with substance abuse and alcoholism for over 47 years. William Benitez founded the Narconon program in 1966 using the drug-free rehabilitation education researched and developed by American author and humanitarian L. Ron Hubbard. The Narconon program is a holistic drug-free rehab program. The drug and alcohol rehabilitation facility also provides Drug Prevention Education to schools and community outreach programs. For drug education in your school or community, contact the center at 517-629-8661.