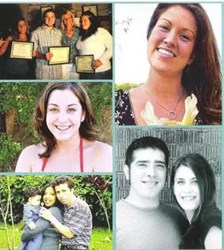 I had the second best experience of my life when I worked my way through the life skills courses and learned how to study, make the right friends and decisions...
Albion, MI (PRWEB) July 16, 2013
Narconon Freedom Center received a report this week from a graduate of their alcohol and drug rehabilitation program. After a year of being sober the former student is well, has earned her GED, gotten a full time job and is living on her own. She is enrolled in college to be a teacher with the purpose of helping struggling adolescents realize there is more to life than drugs and street life. This student's life demonstrates SAMHSA's (Substance Abuse and Mental Health Services Administration) new working definition of recovery, "A process of change through which individuals improve their health and wellness, live a self-directed life, and strive to reach their full potential."
"My addiction started with smoking marijuana and drinking when I was 12 years old. Before I knew what happened, I had tried nearly every drug that could be bought off the streets at just 15 years old… I had found the drug that I just couldn't seem to get enough of: heroin. My loved ones watched me spiral out of control and eventually had to completely disconnect for their own sanity. At 17 I had become homeless because of my addiction. I had to learn how to survive any way that I could. I resorted to stealing, lying, cheating and prostitution to support my increasingly large drug use," said A.M.
One night A.M. was found by a passerby only half alive from an overdosing and was taken to the ER. "This is when my family was notified of what had happened and reluctantly came to see me. Upon their arrival, they offered to pay for me to attend a drug treatment center and even though I wanted to continue using; I knew I needed to go to treatment and clean my life up," continued A.M.
Narconon Freedom Center was contacted and in a matter of days, A.M. was heading to Albion, Michigan to start the recovery process. "…I had the second best experience of my life when I worked my way through the life skills courses and learned how to study, make the right friends and decisions and most of all how to get through any condition of life I was put in.," said A.M. "Narconon had put a smile back on my face by this point. My family couldn't believe the turnaround I had made in a matter of only a few months. ….The first best experience of my life was deciding to get clean."
SAMHSA's new working definition of recovery captures the essential, common experiences of those recovering from substance abuse and the need for treatment that also includes life skills training. A.M.'s story supports these findings.
For more information on how to get a loved one struggling with an alcohol or drug addiction on the road to recovery visit http://www.narcononmichiganfreedomcenter.com or call toll-free 877-362-9682. All calls are confidential.
About Narconon Freedom Center
Narconon Freedom Center, Albion, Michigan, is a non-profit drug and alcohol treatment facility licensed through the state. The program has been helping those struggling with substance abuse and alcoholism for over 47 years. William Benitez founded the Narconon program in 1966 with the drug-free rehabilitation education researched and developed by American author and humanitarian L. Ron Hubbard. The drug and alcohol rehabilitation facility also provides drug prevention education to schools and community outreach programs.