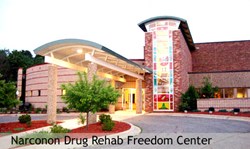 We hope these stories are an inspiration to take action and seek treatment for a substance use disorder, or help a loved one in need.
Albion, MI (PRWEB) August 14, 2013
Narconon Freedom Center executives and staff are planning activities and events for the 24th annual National Recovery Month (Recovery Month) observance in September. Recovery Month is sponsored by the Substance Abuse and Mental Health Services Administration (SAMHSA), within the U.S. Department of Health and Human Services (HHS).
An alcohol and drug rehab facility, Narconon Freedom Center embraces the Recovery Month initiative that raises awareness about the mental and substance use disorders that affect millions of individuals, as well as their families, and celebrates those in recovery. The initiative also recognizes the contributions made by those who work in the behavioral health field.
The 2013 theme, "Join the Voices for Recovery: Together on Pathways to Wellness," represents the many ways that people can prevent substance use disorders, seek treatment, and sustain recovery as part of a commitment to living a mentally, physically, emotionally, and spiritually healthy life. The theme also highlights that people are not alone on their journey to seek total health every day. Family, friends, and community members can support individuals throughout the entire recovery process.
"We are planning many activities for Recovery Month that include delivering drug prevention education, celebrations for students in our drug rehab program who are progressing on their road on recovery, and sharing the stories of graduates and their families so they can join the voices of recovery," said Brian Kuehne, Executive Director Narconon Freedom Center.
"While every situation and individual is unique, the stories we have collected all illustrate this year's theme by showing that there are many pathways to wellness, each with positive outcomes for individuals, families, and communities. We hope these stories are an inspiration to take action and seek treatment for a substance use disorder, or help a loved one in need," said Kuehne.
For more information on how to help a loved one struggling with an alcohol or drug addiction get on the road to recovery visit http://www.freedomdrugrehab.com or call toll-free 877-362-9682. All calls are confidential.
About Narconon Freedom Center
Narconon Freedom Center, Albion, Michigan, is a non-profit alcohol and drug rehabilitation facility licensed through the state. The program has been helping those struggling with substance abuse and alcoholism for over 47 years. William Benitez founded the Narconon program in 1966 with the drug-free rehabilitation education researched and developed by American author and humanitarian L. Ron Hubbard. The drug and alcohol rehabilitation facility also provides drug prevention education to schools and community outreach programs. To schedule Drug Education in a school, youth program or community civic group contact the center at 572-269-8661.