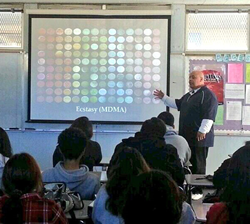 So many of these children get most of what they know about drugs from other kids so it's vital that someone tell them the whole truth.
(PRWEB) November 04, 2014
Southern California struggles with high levels of drugs slipping across the U.S.-Mexico border. In one after another Los Angeles neighborhood, unscrupulous individuals distribute these drugs to the addicted and those about to become addicted – and many children. That's why Narconon Fresh Start, located in southern California, dedicates thousands of hours a year to their drug prevention program. This year during Red Ribbon Week, Narconon Fresh Start drug prevention specialist Tony Bylsma announced that his team had reached more than 100,000 children in 2014.
The drug education team did not just visit public schools to offer the Narconon drug prevention curriculum. They also visited private schools, police and sheriff's departments, Alcoholics and Narcotics Anonymous meetings, church groups, health expos and drug courts. The team even reached out to schools and civic groups in Ohio, delivering classes to thousands of students plus teachers and school administrators across Monroe and Noble Counties.
"Every child we reach with our anti-drug message could mean another person who never becomes addicted," said Clark Carr, president of Narconon International. "In fact, this young person could influence others around him to avoid the use of dangerous drugs. We could be saving multiple lives with each person we educate. This is an essential part of reducing the number of people who lose everything to addiction. We're very proud of our the Narconon Fresh Start team."
After every presentation, feedback surveys are collected. The responses are tabulated to see if the kids' ideas about drugs changed. Eighty percent said they learned new information and 90% said they could put it to good use, sometimes by talking to their friends or family members to warm them of the harm drugs can do. About 50% said that their ideas about drugs changed about drugs which is excellent considering that the majority of the other 50% say they already thought drugs were bad.
The following quote from a feedback survey is representative of the answers received: "I learned so much. I wanted to keep learning, everything he said was important because he was talking about our future and our lives and also the choices we would or should make. My thoughts about drugs changed the first minute he told us about the damage and the harmful chemicals that go into your body. I can use the information by making the right choice for my future and my life."
"So many of these children get most of what they know about drugs from other kids so it's vital that someone tell them the whole truth," said Bylsma. "I see their faces change when I explain that drugs can make them slower, more stupid or even kill them. I've been doing this job for more than a decade so that no one has to suffer the heartbreak of addiction or the overdose death of a loved one."
For nearly fifty years, the international Narconon network of rehabilitation and prevention centers have been working to bring about a drug-free world. For more information about the Narconon drug prevention curriculum or rehab services, call 1-800-775-8750 or visit http://www.narconon.org.