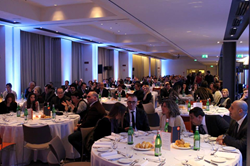 (PRWEB) December 16, 2014
On December 13, 2014, in Milan, Italy, hundreds of guests, supporters and graduates of the Narconon drug rehab program gathered to celebrate 33 years of saving addicted lives. It was an glittering evening of fine food, fine entertainment, and awards for the accomplishments of the past year.
The venue was the Nhow Hotel in the design, fashion and contemporary art district. International guests included a delegation from Qatar, a consul of Turkey, the executive director of the Narconon Cairo, Eqypt, a doctor from Nigeria, and four Assessors from surrounding cities in Italy. Mingling with the 320 guests were eighty graduates of the Narconon drug rehabilitation program and many family members.
After aperitifs and dinner, guests enjoyed the exquisite music of Evgenia Laguna. An international star from Russia, Ms. Laguna added an element of beauty and joy to the evening.
"Each year, our colleagues in Southern Europe take this moment to reflect on the successes of the past year," said Clark Carr, president of Narconon International, located in Los Angeles. "Narconon Southern Europe is really reaching out to introduce our educational model program across their entire geographical sector. We are terribly proud of their work, the lives they have saved and the popularity of the Narconon program that has been the result of their fine work."
When the awards portion of the evening arrived, several people were singled out for their remarkable achievements. From Qatar, Mr. Mubarak Bin Zayed awarded the Narconon regional management office, Narconon Southern Europe, with a golden falcon statue as thanks for their humanitarian actions.
Other awards given out that evening were the William Benitez International Award, presented annually to those who make remarkable strides on behalf of Narconon or their communities. Benitez was the American founder of the Narconon program in 1966.
One of the awardees was Aidu Shanana from Nigeria. After training on Narconon technology to start a drug rehab center in his country, he realized that his community needed help with the Ebola epidemic raging through Western Africa. He gathered his staff and they took to the streets to distribute public educational materials on Ebola and to actually talk to people about their escalating worries and to calm them down with facts and data. As the group continued this project, Nigeria was eventually declared Ebola-free by the World Health Organization.
Dila Tezemir and Ismail Karakas from Narconon Turkey were also recipients of the William Benitez International Award. Since they began operating their center in Ankara, they have also reached out to other people in their region by appearing repeatedly on television to talk about solutions to addiction. Narconon is the first non-hospital drug rehab program in the country.
"We look forward to another year of accomplishments from our colleagues in Southern Europe," said Carr, "and I particularly want to single out executive director Giovanni Cittero and president Ugo Ferrando for their excellent work."
For more information on the Narconon program and its international network of rehabilitation and prevention centers, call 1-800-775-8750 or visit http://www.narconon.org.