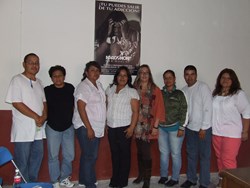 Because so much crime is related to drug trafficking and abuse, one way or another, these officers can now be more effective in making this a safe society for us all
(PRWEB) August 23, 2013
In Mexico like any other country, the police forces are charged with the responsibility to prevent the spread of drug abuse by citizens. In most cases, this prevention takes the form of arresting drug users and sellers. In the Mexican states of Guanajuato and Queretaro, the police have a new understanding of the problem and how they can help, thanks to workshops delivered by the Narconon drug rehabilitation center located nearby.
In the summer of 2013, the executive director of Narconon Mexico, located in Apaseo el Grande, Guanajuato, and one of his executives began to visit the police departments and schools in the area and explain the drug education services they have been providing to schools for the last few years.
In Pedro Escobedo, the deputy police chief got very interested in the way this education might help his officers fight drug use and addiction. He decided that the educational campaign being run by Narconon aligned with the police department's Crime Prevention Campaign. He then asked to have the drug education classes delivered to his officers. Even more, he asked to have some of his officers trained to deliver the drug education classes.
"These workshops help our law enforcement officers understand drug abuse and addiction better," said Marisela Solarzano de Espinal, Assistant Executive Director of Narconon Mexico. "Because so much crime is related to drug trafficking and abuse, one way or another, these officers can now be more effective in making this a safe society for us all."
The cooperative crime prevention effort has expanded to the point that now, the drug prevention workshop will be delivered to all the police officers in Guanajuato. In all, 60 officers will attend the workshop and six of them will be chosen to train as drug educators for students in the area.
As the workshops started, officers showed how much they were learning in the written statements they provided afterwards. A Crime Prevention Officer said, "I learned that drugs kill and we have to teach our children about this." A police officer said, "I learned that I have to have better communication with my family to prevent any kind of addiction."The Program Coordinator for the Crime Prevention Campaign said, "For the first time, someone explained how drugs intoxicate a person."
As school starts in this region, these police officers will start delivering drug education classes to the students.
"When you help someone avoid drug abuse and criminal activity through education, everyone wins," added Mrs. Espinal. "Our youth stay drug free, the state budget is spared the expense of arresting a person, and our officers can take pride in the real help they are providing to these young lives."
For more information on Narconon drug education or the Narconon drug rehab program, call 1-323-962-2404.