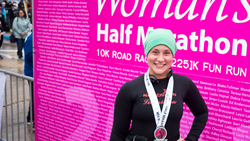 I'm Drug Free For Life
Baton Rouge, LA (PRWEB) December 16, 2013
Narconon New Life Retreat graduate, Elizabeth Stanley, returns to running using her recovery from drugs to help inspire others completing a successful half marathon in Baton Rouge. The race started early Sunday morning, December 8th, as cold rain came down on participants and a crowd of onlookers at the annual woman's half marathon. The event is held every year to highlight woman's health and supports local hospital programs.
The half marathon loops around downtown Baton Rouge and was especially grueling this year due to the abnormally cold weather and bone chilling rain. Despite the environmental hardship, over 700 runners both male and female ran the 13.1 kilometer course to the encouragement of onlookers. The finish line was draped in pink and a DJ welcomed the runners in. Many of the attendee's wore costumes which added to the festive air.
Elizabeth, now a staff member at Narconon New Life Retreat had a special reason for running in the Marathon. "I want to show those around me what a drug-free life can be. Running in the half marathon, I feel I can show others that recovery from addiction isn't just about not using drugs any more but living life to its fullest," said Elizabeth.
"Recovery from a drug or alcohol addiction isn't easy. Drugs rob us of our motivation and destroy our dreams for the future. Running a marathon isn't something most of us will ever do, even without drugs. But for me, running has become a part of my own recovery," said Elizabeth.
The recovery program Elizabeth found, Narconon, focuses on discovering and handling the underlying causes of addiction. While some programs focus on drugs exclusively or consider addiction a mental disorder, Narconon is different. The program believes that anyone has the power within themselves to overcome addiction. The empowerment found in this belief creates an environment which allows its graduates to go on to live happy successful lives free from addiction to drugs and alcohol. It stresses the importance of family and work and rehabilitates abilities which many participants believed they had lost. For Elizabeth that was running.
Since 2006, Narconon New Life Retreat has provided effective drug and alcohol rehabilitation to hundreds of people, the majority of whom have gone on to remain sober for the rest of their lives. The success found here began with the founding of the first Narconon program in the Arizona State Penitentiary when then prisoner William Benetiz realized that addiction was largely a lack of ability. As the program developed over the last 47, years it incorporated new treatment protocols which are unique in that it uses a drug-free approach to rehabilitation.
If you or someone you know is struggling with addiction and is looking for a way to successfully get off drugs permanently, contact Narconon New Life Retreat today at (877) 340-3602.
About Narconon Louisiana New Life Retreat Inc.
Narconon Louisiana New Life Retreat Inc., located in Denham Springs, is a non-profit alcohol and drug rehabilitation center licensed by the State of Louisiana. In 1966 founder William Benitez started the Narconon program using the drug-free rehabilitation and social education methodology based on research developed by American author and humanitarian, L. Ron Hubbard. They are dedicated to eliminating alcohol and drug addiction through drug prevention education and rehabilitation. Intake Counselors are available to answer questions by calling 877-340-3602. Any questions you have in the matter will be addressed in confidence.