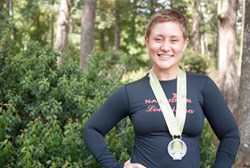 Narconon New Life Retreat wants to thank all of their graduates for their continued dedication and support of recovery.
Denham Springs, LA (PRWEB) September 19, 2013
Narconon New Life Retreat, an addiction recovery center, is including many practices into their treatment plans in order to support long term recovery. In honor of September Recovery Month a series of open mic nights designed to teach creativity and life skills is under way, aligning with the 2013 theme, "Join the Voices for Recovery: Together on Pathways to Wellness."
Students are invited to perform in group or alone and the whole recovery center attends.This holistic approach to addiction treatment is just one of the ways the Narconon program works to help graduates plan for their life after addiction.
One of the event's favorite performers is Tom Steiner co-founder of Narconon New Life Retreat. Tom brings his talents to the stage with songs written about recovery and to encourage those in the audience with what life after addiction can look like.
"My wife Cathy, Executive Director of the center, and I have devoted our lives to helping people recover from their addiction and go on to live happy productive lives. It is extremely rewarding work," says Steiner.
This week the performance featured an original composition by one of the students and other performers featured amazing vocals and guitar work. You can listen in here.
Narconon New Life Retreat wants to thank all of their graduates for their continued dedication and support of recovery.
The success of our graduates is attributed to its unique drug-free rehabilitation program not using drugs or medications to solve the problems caused by drugs, but use nutrition and nutritional supplements as an important component of its delivery. Drug cravings are handled during the Narconon New Life Detoxification program that helps remove the drug toxins that are stored in the body. These steps are then followed by life skills courses that locate why a person starts abusing drugs in the first place and provides the skills needed to make participating in a "Walk for Recovery" and Elizabeth Stanley, who competed in this year's Louisiana Marathon, competing in several upcoming marathons.
If you or someone you know is addicted to street drugs or prescriptions and is looking for a way to successfully get off drugs permanently contact Narconon New Life Retreat today at (877) 340-3602.
About Narconon Louisiana New Life Retreat Inc.
Narconon Louisiana New Life Retreat Inc., located in Denham Springs, is a non-profit alcohol and drug rehabilitation center licensed by the State of Louisiana. The Narconon drug rehabilitation and education program was founded in 1966 by William Benitez and uses the drug-free rehabilitation and social education methodology based on research developed by American author and humanitarian, L. Ron Hubbard. They are dedicated to eliminating alcohol and drug addiction through drug prevention education and rehabilitation. Intake Counselors are available to answer questions by calling 877-340-3602. Any questions you have in the matter will be addressed in confidence.
.