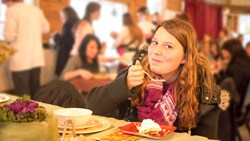 I really feel that having my family back is a key part of my recovery.
Denham Springs, LA (PRWEB) December 04, 2013
Narconon New Life Retreat recently invited families from around the country to join their loved ones at the drug rehab facility for Thanksgiving dinner. The holidays can be especially tough for families when a loved one is in a rehab program. The meal is a symbol of the importance family plays in recovery and is a step in rebuilding those relationships.
Mark is a Narconon graduate who overcame the odds and is now celebrating the holidays at home having repaired his relationships with his family. Mark remembers holidays past when all he could do was run away from his family. This holiday season will be different, "I really feel that having my family back is a key part of my recovery," Mark said after his recent graduation.
As part of its continuing drug education program Narconon New Life Retreat offers these tips to stay sober over the holidays:
Stay away from people and places you associate with using drugs. The holidays are often stressful and this isn't the time to test your sobriety.
Remember your support group. Your family and friends can help you get through any tough feelings you may have over the holidays.
If you get into trouble, don't wait for the holidays to be over. The faster you handle a relapse the better the overall outcome will be.
Another option is to plan a drug and alcohol free holiday party. This offers you and your friends a safe way to celebrate the holidays without endangering your sobriety. This guide published by the Substance Abuse and Mental Health Services Administration can help.
Fatalities due to driving while intoxicated spike over the holidays. By offering a sober alternative to the typical holiday party, you can help keep your friends and family safe.
The Narconon New Life Retreat rehab program offers drug abuse treatment services which help make a stay at the facility comfortable and provides a therapeutic environment to help the recovery process.
Our experienced and caring counselors are standing by to help you understand more about addiction and what it takes to permanently recover through effective long term drug rehab. We provide proven drug and alcohol abuse solutions that set us apart from other rehabs in the U.S.
About Narconon Louisiana New Life Retreat Inc.
Narconon Louisiana New Life Retreat Inc. located in Denham Springs is a non-profit alcohol and drug rehabilitation center licensed by the State of Louisiana. The Narconon Program began in 1966 in the Arizona State Penitentiary when inmate William Benetiz decided to start an organization to provide drug rehabilitation to other inmates. Upon his release, William founded the first Narconon program outside of the prison which would go on to become one of the most successful rehabilitation programs in the world. The program uses the drug-free rehabilitation and social education methodology based on research developed by American author and humanitarian L. Ron Hubbard. Intake Counselors are available to answer questions by calling 877-340-3602. All calls will be addressed in confidence.