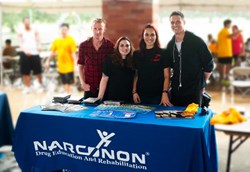 I want everyone to know that recovery can be fun.
Denham Springs, LA (PRWEB) September 25, 2013
Narconon New Life Retreat staff members traveled to City Park Festival Grounds, New Orleans, September 21st, to participate in Walk4Recovery. This year Action Against Addiction teamed up with the Jefferson Parish Alliance of Concerned Citizens (JPACC) to show their support for America's troops and veterans. All proceeds raised by JPACC runners and walkers will benefit the Armed Services Network of Louisiana.
The torrential rainfall at this year's event did nothing to dampen the high spirits as hundreds of walkers and runners took to the 5K course. "I want everyone to know that recovery can be fun," said Narconon New Life Retreat's Director of Communications, Diana Re, as she danced to the DJ playing at the event.
Events such as these provide an opportunity for cooperation between treatment providers, law enforcement and educators. Several educators and probation officers stopped by Narconon's booth to find more information on treatment and education in the area. Narconon provided free DVD's and the popular booklet "10 Things Your Friends Don't Know about Drugs" for the event.
By supporting organizations such as Action Against Addiction, New Life Retreat seeks to develop cooperation between treatment providers, educators and law enforcement.
Addiction affects us all, hijacking lives, exploiting families and cheating society out of millions of young men and women who might otherwise become contributing members of society. According to the Centers for Disease Control, addiction has become a "national epidemic" -cdc.gov/mmwr/preview/mmwrhtml/mm6101a3.htm.
National Recovery Month created by Substance Abuse and Mental Health Services Administration (SAMHSA.gov) promotes the benefits of prevention, treatment and recovery for substance abuse problems. It celebrates people in recovery and praises the contributions of treatment and service providers. It spreads the positive message that behavioral health is essential to overall health, that prevention works, treatment is effective, and that people can and do recover.
If you or someone you know is struggling with addiction and looking for a way to successfully get off drugs permanently, contact Narconon New Life Retreat today at (877) 340-3602.
About Narconon Louisiana New Life Retreat Inc.
Narconon Louisiana New Life Retreat Inc. located in Denham Springs is a non-profit alcohol and drug rehabilitation center licensed by the State of Louisiana. The Narconon Program began in 1966 in the Arizona State Penitentiary when then inmate William Benetiz decided to start an organization to provide drug rehabilitation to other inmates. Upon his release William founded the first Narconon program outside of the prison which would go on to become one of the most successful rehabilitation programs in the world. The program uses the drug-free rehabilitation and social education methodology based on research developed by American author and humanitarian L. Ron Hubbard. Intake Counselors are available to answer questions by calling 877-340-3602. All calls will be addressed in confidence.