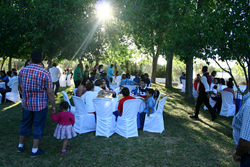 We are very proud of the staffs' and students' accomplishments, but nothing compares to the joy of their graduates who realize that they can now live sober, productive lives
(PRWEB) June 14, 2014
June 8, 2014 was the date for Narconon Mediterraneo staff to celebrate the drug-free lives that had been achieved at this center, so they invited their program graduates and their families to join them for dinner and a party. They also invited community members who have helped make it possible for Narconon Mediterraneo to support the addicted in their recoveries.
This Narconon center is located near Seville in the south of Spain. The event started with a reception indoors and then moved out under the trees in a garden. Approximately thirty graduates brought their families. Local officials and members of the Civil Guard and Police Department from Alcala de Guadaira, the nearest town, also attended.
"For more than twenty-five years, our center in southern Spain has helped people recover from the effects of heroin, cocaine, marijuana and other drugs," said Clark Carr, president of Narconon International in Los Angeles. "We are very proud of the staffs' and students' accomplishments, but nothing compares to the joy of their graduates who realize that they can now live sober, productive lives and the happiness of the families who have gotten their loved ones back. This celebration brought the community and families together to appreciate this hard-earned restoration of drug-free living."
Spain has long been the end of the line for heroin trafficked into Europe from Central Asia. In the 1990s, cocaine also started flooding in from South America. And marijuana and hashish come up from North Africa.
Narconon Mediterraneo's program for this evening included speeches from two of the drug rehab's past graduates. Other speakers were a mother who talked about her son's recovery from addiction, and a daughter who provided a moving story of the change in her father when he came home after the Narconon program.
Awards followed the speeches. Members of the Civil Guard and the Police Department were acknowledged with trophies, thanking them for their support. The staff, supporters and founder of Narconon Mediterraneo were also thanked for their steadfastness and dedication with engraved medals hung from bright red and gold ribbons. One very recent graduate talked about his recovery and then made a 'ceremonial' somersault into the swimming pool, setting the tone for the party festivities and dancing, which followed into the evening.
To learn more about the Narconon drug rehabilitation program offered at locations around the world, visit http://www.narconon.org or call 1-800-775-8750.