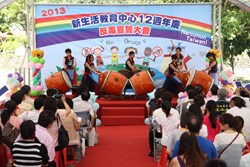 Our Taiwanese friends have been working very hard for these twelve years to explain the dangers of drug abuse to youth and adults alike, and to recover those who were lost to addiction
(PRWEB) August 28, 2013
Every day for the past twelve years, the Narconon drug rehab and prevention center in Ji-An Township has been reaching out to help those who are affected by drug abuse. Schoolchildren receive drug education in the schools, community members receive anti-drug materials on the street and the addicted receive a thorough drug rehabilitation program at Narconon Taiwan's facility. The staff and volunteers of this group opened their doors to their neighbors and graduates so they celebrate their twelfth anniversary on August 10, 2013.
In a colorful shelter erected at the facility, one hundred fifty people gathered to enjoy the ceremonies. Among the attendees were the mayor, a member of the local health bureau, the secretary of education and the legislative speaker, all from Hua Lien County. The mayor of Yen Liao Village was also in the group. A high school group provided a percussion performance, and dancers entertained.
"Our Taiwanese friends have been working very hard for these twelve years to explain the dangers of drug abuse to youth and adults alike, and to recover those who were lost to addiction," said Clark Carr, president of Narconon International in Los Angeles. "We applaud their success and commend them for their contributions to an entirely drug-free world – the goal of Narconon International."
Many people attending the celebration were commended for the help they have provided in passing out thousands of drug education books and videos to the public. A drug-free pledge was presented to the group and the guests lined up to sign their names.
As part of the celebration, three graduates spoke about the way their lives had changed when they found to help them with their addictions. One father told the group a moving story about how he got his son back as a result of this long-term rehabilitation program.
In Taiwan, the lavish nightlife facilities mean that there are always plenty of drugs available. For local residents and tourists, there's heroin, ketamine, amphetamine, Ecstasy and alcohol in abundance. But all these drugs are both addictive and physically harmful. Narconon provides a way for a person to repair the damage done to body, mind and soul by addiction so they can return to their families and communities.
"Narconon Taiwan has won great support from their community," said Carr. "As they continue their outreach, they are building a stronger Taiwan."
For more information on Narconon or call 1-800-775-8750.