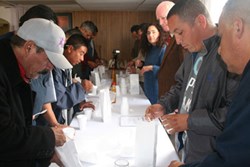 We look forward to our local Narconon center helping the Secretary of Social Development improve conditions for the people of Baja California.
(PRWEB) August 31, 2013
With the recent change in Mexican Presidents came a change also in emphasis and approach toward drugs and crime. The new president, Enrique Peña Nieto, is promoting the reduction of crime committed against ordinary citizens as a priority over warring directly with the drug cartels. He has charged his state Governors to develop local programs to accomplish this goal. In Baja California, the Secretary of Social Development (Sedesol) has just chosen the local Narconon drug rehabilitation center to be part of this solution in a pilot program starting in the city of Tijuana.
The president of Narconon Tijuana, Juan Verdugo, and his executives recently made a presentation to the Secretary of Social Development on services they could offer that could help reduce crime. Their recommendations were recently approved, and Narconon Tijuana was selected to start a pilot program in a high crime district of Tijuana -- delivering five workshops to eight schools and citizens who live around those schools.
The workshops will provide education regarding the following subjects which have proven vital in improving the lives of both drug abusers and non-drug abusers:
1. Basic communications skills to improve the ability to confront life, putting a person in better control of himself and his emotions,
2. Identifying persons whose intentions are to harm and comparing them to those who basically want to help, and how to deal with each type of person,
3. How to restore one's personal integrity once lost, or how to preserve it,
4. Factual education about drugs and the harm they really cause,
5. A simple, common-sense moral code outlining successful, practical choices that lead to increased well-being for oneself and others around one.
"We salute the staff of Narconon Tijuana," said Clark Carr, president of Narconon International and a frequent visitor to the center and city. "We are very excited about this opportunity for Narconon to help demonstrate that simple methods can be used to address crime and community disintegration. We have been using these lessons around the world to help people recover from addiction, but also to help anyone achieve a happier, more productive life. We have delivered other such workshops in the Philippines, in Pakistan and India, Nigeria and South Africa. We look forward to our local Narconon center helping the Secretary of Social Development improve conditions for the people of Baja California."
Sedesol has approved funding for Narconon Tijuana to launch their workshop schedule. While these lessons will begin formally in September 2013, a preliminary project saw Verdugo and his executives distributing 25 boxes of educational materials that are used in two of these workshops. The Narconon personnel visited El Pipila, a "colonia" or city district of Tijuana, to hand out free booklets The Way to Happiness and 10 Things Your Friends May Not Know about Drugs.
For more information on the Narconon rehabilitation program or educational workshops, call 1-800-775-8750.