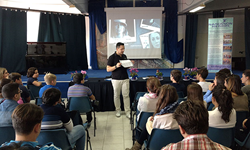 Narconon drug educators have been working hard for the last two years. In North American they reached over 250,00 young people. In northern Europe almost 200,000. In Latin America 45,000 and in Australia and Asia over 122,000
(PRWEB) June 25, 2014
Around the world this June 26th, Narconon centers will participate in events and observances marking the annual International Day Against Drug Abuse and Illicit Trafficking established by the United Nations. As in years past, Narconon staff and volunteers will take to the streets, go to youth clubs, and participate in community awareness events. In countries as diverse as Ghana, Uganda, Colombia, Nepal, Mexico, Denmark, Pakistan and across the US, lessons and drug education materials will be delivered to public – young and old alike – as well as to law enforcement personnel, local officials and legislators, sometimes at international events.
This year, Narconon Ghana highlights the types of drug prevention and humanitarian aid projects that Narconon staff and volunteers contribute to their societies. Director Joe Appiah will be speaking by invitation to numerous Liberian and nearby African country officials including UNODC staff at their June 26th event. Narconon, he will announce, will shortly begin to train Liberian organizations in the Narconon First Step Program, a humane and healthy way of to help alcoholics and other drug addicts to get through withdrawal less painfully and more rapidly in order to start on a new sober path. Elsewhere, these Narconon techniques have been adopted by more than 150 Christian Twelve Step programs in Mexico as useful adjuncts to their regimens. Mr. Appiah has spent well over a decade delivering drug education talks across Central Western Africa. Across Africa, 74,000 young people received lectures in the last two years alone.
"We are proud to work side by side with goodhearted persons like Joe Appiah as well as thousands of others worldwide who have dedicated themselves to saving lives from drugs," said Clark Carr, President of Narconon International in Los Angeles. "We have helped train drug educators on every continent except Antarctica, sharing what we have learned so that they can in turn educate young people to make saner choices, never to pick up a needle, a pill, or a joint. This special day gives us an opportunity to add our voices to so many others encouraging people to live drug-free lives."
As they do every year, Narconon drug prevention specialists will reach hundreds of thousands of young people as part of their consistent, extensive drug prevention offering. In the past two years, more than three-quarters of a million people, most of them schoolchildren, have attended these classes.
While the emphasis of the Narconon organization originally focussed on drug rehabilitation, it quickly became obvious that without effective drug education, there might soon be an overwhelming number of addicted people to deal with. The founder of the Narconon program, William Benitez, set the pattern for Narconon drug education with lectures he gave in Arizona and other parts of the Southwest as early as the late 1960s.
Consistently, Narconon drug education staffs have surveyed youth after drug ed lectures to get their feedback, to learn from this and improve the effectiveness of these classes. In 1995, followup surveys from Los Angeles classes to youth showed a strong result with at-risk kids – those who identified themselves as being likely to use drugs in the future. Eight-six percent of those youth said they were less likely to use drugs after these classes. That survey can be found on the website of ERIC (Educational Resources Information Center.)
Then, in 2008, a formal evaluation of the Narconon high school drug education curriculum was published in a peer reviewed journal. In this study, 1,000 Oklahoma and Hawaii youth attended the complete Narconon drug education curriculum and were surveyed before, immediately after and six months after the curriculum. Significant reductions were reported in the use of gateway drugs, tobacco use falling most significantly, followed by lowered marijuana use. Decreases in alcohol and amphetamine use were also significant.
Over in Europe, in Italy alone, more than 83,000 people heard the Narconon anti-drug message in the last two years. Italian drug educators just recently tabulated the post-lecture student surveys, paralleling the Los Angeles 1995 tabulation. Following the presentations, more than 3,300 Italian youth were asked to rate their responses to, among other questions, these two comments:
1. The lesson has allowed me to learn things I did not know, and
2. The topic of the lesson was important with useful information about drugs and alcohol.
As the two pie charts show, on the first point, nearly half the Italian youth responded that they learned things about the dangers of drugs that they hadn't previously known. A little less than half felt "moderate" increase in understanding. Only 3% of the students didn't feel they learned much.
On the second point, more than three-quarters of the Italian students said that the lessons contained correct and important information about drugs. Only one percent of students felt the information was not particularly correct and important.
"Narconon drug educators have been working hard for the last two years," said Carr. "In North American they reached over 250,00 young people. In northern Europe almost 200,000. In Latin America 45,000 and in Australia and Asia over 122,000. On this international day against drugs, we salute our Narconon staff as well as all those others worldwide who are fighting this battle. Whether they work in rehab, law enforcement or education and, of course, including those parents who talk to their kids at home, this is simply about saving the future generation."
For more information on the Narconon drug education or rehab programs or to obtain drug prevention materials from Narconon visit http://www.narconon.org.