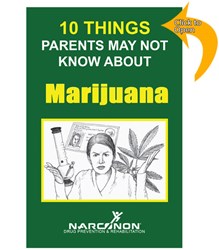 We understand that some of this information may not be readily available to parents so we have created these straightforward, informative guides for parents to use in kitchen table drug education talks
(PRWEB) September 06, 2013
For many parents, it's a relief when school starts. Children are no longer underfoot, spending long hours in front of the computer or television, or complaining that there's nothing fun to do. But the parents of high school students should be forewarned that their children are very likely to be more exposed to drug and alcohol use on a daily basis once they are back in the school environment.
Each year, the National Center on Addiction and Substance Abuse at Columbia University (CASA) publishes a survey on students' perceptions of drugs and alcohol. In their latest survey, CASA reported that 60% of teens surveyed said that drugs were used, kept or sold on school grounds. Nearly all students reported that some of their classmates were using drugs or drinking during the school day.
"If parents thought that there was a greater chance that their children might get into trouble with drugs or drinking during the summer break, these statistics should change their minds," said Clark Carr, president of Narconon International. Narconon is a non-profit network of drug prevention and drug rehabilitation centers located around the world. "If they have not yet started intensively working to protect their children from the damage drugs can do, they should start now."
CASA asked these same high school students if their classmates drink or use drugs, either on campus or off. Nearly all the respondents said, "Yes." Nearly half of those surveyed said that their classmates drink and four out of ten said that their classmates were using drugs.
They were also asked if they knew students who sold drugs. Nearly half said they did, and nearly all of these added that it was marijuana. One in four knew about someone selling prescription pills, and one in eleven knew someone selling Ecstasy.
"The Narconon International website has tools that parents can use to prevent drug use by their children," said Carr. "We offer them as free downloads to parents because it is vital that they be able to keep their children drug-free."
Carr was referring to recent publications from Narconon International: 10 Things Parents May Not Know about Marijuana and 10 Things Parents May Not Know about Prescription Drug Abuse. "We understand that some of this information may not be readily available to parents so we have created these straightforward, informative guides for parents to use in kitchen table drug education talks," he concluded.
These and other materials for parents are available here: http://www.narconon.org/drug-abuse/parent-center.html.
For more information on the drug prevention or drug rehab services of Narconon, call 1-800-775-8750.
http://www.casacolumbia.org/upload/2012/20120822teensurvey.pdf