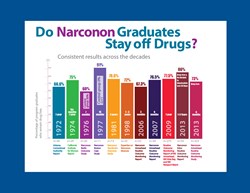 The system measures abstinence as well as drug use rates and amounts, and includes measures to monitor criminality, employment, family relations, and program satisfaction.
Canadian, OK (PRWEB) February 10, 2014
In 2004, Narconon International partnered with Psychometric Technologies Inc. and developed what turned out to be a cost effective method of monitoring and managing drug and alcohol treatment outcomes. This system which came to be known as The Routine Outcome Management system or ROM was first used in an in-house outcome review that was conducted at Narconon's Oklahoma based drug and alcohol rehabilitation program, Narconon Arrowhead.
The ROM system was used to gather information on 419 graduates of the Narconon Arrowhead program who were interviewed twice a year between 2004 and 2007. The workability of the ROM system and the positive outcomes from this review were published in the Journal of Substance Abuse Research and Treatment in September of 2013
The Narconon organization has always remained committed to producing and tracking positive results since the program's inception in 1966. Over a 40 year period eleven separate outcome evaluations in a number of venues have been done on participants of
Narconon drug and alcohol rehab centers and program in the U.S. and abroad. This body of research indicates that the majority of Narconon graduates stay off of drugs [2].
This evidence based ROM system has been in use and improved over the years at
Narconon's Arrowhead facility and today serves as an excellent example to other treatment providers as a workable, cost-effective method to track and manage treatment outcomes [1][2].
For more information on Narconon Arrowhead's Outcome Monitoring system or treatment approach visit their site at http://www.narcononarrowhead.org or call 800-468-6933.
Sources:
1. Libertas Academica - A Simplified Method for Routine Outcome Monitoring after Drug Abuse Treatment: http://www.la-press.com/a-simplified-method-for-routine-outcome-monitoring-after-drug-abuse-tr-article-a3885-abstract
2. Narconon International - Forty Years of Narconon Outcome Evidence: http://www.narconon.org/about-narconon/40-years-evidence-recovery.html