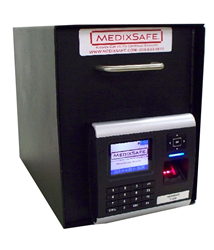 Selecting a method of controlling narcotics is an important decision
(PRWEB) August 10, 2015
Memphis, TN: Selecting a method of controlling narcotics is an important decision. Achieving the desired results of authenticating and documenting access is the keystone in the decision making process. This new MedixSafe report explores new options and addresses concerns in choosing a solution that will work when it needs it to work.
Free Report covers how to be compliant with legal and administrative regulations, how to keep access records, how to stop employee theft, and eliminate costly mistakes. MedixSafe is the industry leader and provides a system that requires methods of entry that will allow one to manage narcotics and make confident decisions when narcotics are missing and/or a discrepancy arises. FREE REPORT
Keys and PINs are no longer enough to ensure security and accountability for emergency narcotics access. Across the country, controlled substance inventory shrinkage is having a critical impact on patient care, staff integrity, liability, and the bottom line. This has led to regulatory demands for an access audit trail – MedixSafe offers unique, field-tested security technologies to meet those demands. MedixSafe manufactures high-tech narcotics cabinets and lockers used by clinics, medical offices, small hospitals, and emergency vehicles.
MedixSafe set a new standard for narcotics security when they introduced the ambulance trade's first dual access security solution, the M1 Narcotics Cabinet, incorporating both a proximity card reader and PIN pad. The M2 Narcotics Cabinet integrates a fingerprint scanner, card reader, and PIN pad, allowing for the highest degree of individual accountability and assuring compliance with new, stricter regulations for automated record keeping.
For more information about MedixSafe visit medixsafe.com or call 855-MEDIXSAFE