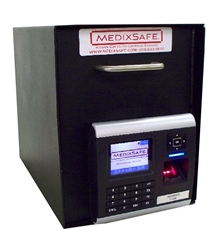 The system automatically records and documents all activity, providing an accurate audit trail for the DEA and other authorities having jurisdiction
Memphis, TN (PRWEB) June 05, 2015
The new MedixSafe M2 Vanguard is now available. The M2 Narcotics Locker offers the ambulance trade's most technologically-advanced Triple Access Security Solution. The Vanguard reader upgrade adds tracking to compile a complete narcotics inventory log for audit purposes. The system automatically records and documents all activity, providing an accurate audit trail for the DEA and other authorities having jurisdiction. Plus only MedixSafe gives the admin the ability to protect drugs from being stolen while alerting them to all narcotic access and inventory in real time.
Narcotics theft today is rampant: as much as $1.8 billion in narcotics are stolen each year from cargo alone. That doesn't include narcotics pilfered from fire trucks, ambulances, doctors' and veterinarians' offices, urgent care units, clinics, and hospitals.
April 25, 2015 The Columbus Dispatch reported - Columbus police are investigating the possible theft of narcotics from two Columbus fire stations after several bottles of painkillers disappeared within a 24-hour period. There is growing suspicion within the division that a firefighter or paramedic took the drugs. A review after the drugs disappeared found broken and malfunctioning locks in 13 ambulances. In some instances, the logs kept in fire stations of who had the drugs and when they were dispersed and records of how much was still on board were not kept up-to-date.
April 29, 2015 Dispatch News reported – A former Middletown paramedic was indicted for theft in office charges for allegedly stealing morphine from life squads in Middletown and Fairfield Twp. The fire and police departments conducted a thorough investigation and the paramedic eventually confessed, according to the chief. If he is found guilty he could face four-and-a-half years in prison.
Keys or PIN numbers alone are no longer enough to ensure security and accountability for emergency narcotics access. Across the country, reductions in schedule II drug inventories are having a critical impact on patient care, staff integrity, liability, and the bottom line. This has led to regulatory demands for an access audit trail – MedixSafe offers unique, field-tested security solutions to meet those demands and keep narcotics safe.
MedixSafe gives the option of incorporating Biometric fingerprint scanners, proximity cards and even IP based remote management to narcotics security protocols. While maintaining quick access to emergency medicines, MedixSafe technologies allow for greater accountability and automated recordkeeping – assuring compliance with new, stricter regulations.
The MedixSafe M2 combines the security and ease of scanning a fingerprint with the power and efficiency of remote network administration. Any PC-based computer, with internet access, can be equipped to remotely manage and monitor any number of mobile units. And each unit stores up to 50,000 events and will serve up to 1,500 users.
M2 narcotic cabinets are made of heavy gauge steel construction with a durable powder coat finish. Each unit comes with pre-drilled holes for bolting to any structurally sound surface and come with a foam-padded insert for added protection of contents.
For more information about the M2 Vanguard or MedixSafe visit http://medixsafe.com or call toll free 855-MEDIXSAFE
Source:
dispatch.com/content/stories/local/2015/04/25/narcotics-missing-from-fire-stations.html
journal-news.com/news/news/paramedic-indicted-for-allegedly-stealing-morphine/nk5y8/