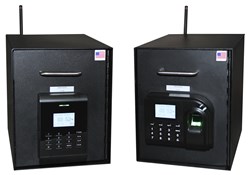 It's a much-needed solution to a persistent problem
Memphis, TN (PRWEB) November 30, 2013
Keys or PIN numbers alone are no longer enough to ensure security and accountability for emergency narcotics access. Across the country, reductions in schedule II drug inventories are having a critical impact on patient care, staff integrity, liability, and the bottom line.
Nov 13, 2013 NBC Wisconsin Affiliate WEAU reported: "Police were called to the Lakeview Medical Center (LMC) for a theft of narcotics complaint. Upon arrival, officers were advised a paramedic was suspected of stealing narcotics based on the discovery of discrepancies on an audit of the ambulance service administration records. Following the initial findings, LMC also contacted the Drug Enforcement Administration. A subsequent investigation revealed numerous incidents of alleged forgery involving narcotics transfers and the diversion of medication from the hospital. On Friday, November 8, 2013, the subject was arrested without incident and was incarcerated in Barron County jail pending numerous formal charges from the Barroom County District Attorney's Office."
An electronic lockbox could have prevented the Lakeview Thefts. MedixSafe offers such narcotics cabinets. All are made of ten gauge powder-coated steel (not aluminum) and require dual or triple access for entry. The user needs a combination of a PIN, proximity card and fingerprint scan to open the safe. MedixSafe units allow administrators to add, delete and modify users and download event history remotely from an administrator's desk.
"It's a much-needed solution to a persistent problem." - John McGuire, Jericho, New York and New York City fire departments. McGuire has been using the Medixsafe and the main effect he has seen is deterrence. "Everyone knows you can't get into the Medixsafe without being detected."
The M Series narcotics cabinets are the perfect size for mobile applications like an ambulance or fire truck. The M1 is the ambulance trade's first, simplest dual access security solution, incorporating both proximity card readers and PIN pads. The M2 is the ambulance trade's most technologically advanced triple access security solution. Incorporating both fingerprint scanners and PIN pads. Wi-Fi is also available on the M Series, which promotes the power and efficiency of remote network administration, enforcing authorized access, and tracing access for unprecedented accountability. The Wi-Fi option is highly configurable and supports the widest range of security protocols.
Watch the video to keep Narcotics Safe
For more information, please contact MedixSafe at 855-MEDIXSAFE or medixsafe.com
Sources:
weau.com/home/headlines/Paramedic-arrested-for-stealing-narcotics-231836111.html
medixsafe.com/news/jericho-fire-department/