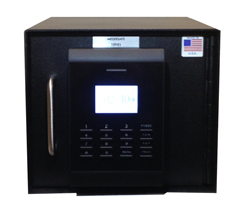 No more "ok who broke the narc kit?"
Memphis, TN (PRWEB) October 01, 2014
MedixSafe has received phenomenal feedback on their narcotics security products. In fact it is customer feedback that has propelled the company from just one narcotics cabinet to nine different models plus add on features like Wi-Fi. MedixSafe started discussing a testimonial page earlier this year and the page was added to the website September 8, 2014.
The testimonial page highlights customer reviews, testimonials, and Facebook recommendations. Kurt Opgenorth with Ryan Brothers Ambulance in Madison, WI says "Medixsafe has allowed us to securely store our controlled substance medications. With the addition of a fingerprint scanner, it delivers another level of controlling access as well as a digital record of entry. This added level of accountability allows us to confirm who is accessing the safe, in real time. Thank you for providing a well built, secure, safe at a fair price."
MedixSafe has also been very popular on Facebook. One post titled Latest Security Technology For Paramedics and Ambulance Use has even received 544 likes and been shared 109 times. Top comments include:
"Have had these safes for just about a year. They work great," Rob White
"We just got these safes and just went "live" with controlled substances last month. I had the chance to use it for the first time this past weekend, worked great! With the fingerprint reader there are no doubts about who accessed the safe," Robert Stadelman
"We bought 4 of them," Jim Meden
"No more "ok who broke the narc kit?" Christopher Sachjen
MedixSafe was created by Electronic Security Specialists, a Memphis-based, electronic security company with over 30 years in the security arena. In the spring of 2009 through a series of circumstances Electronic Security Specialists was contacted by Fire Commissioner Ted Kets, Jericho, NY. Kets had a problem that needed a secure solution; he was responsible for securing and accounting for all the narcotics purchased by Jericho Fire Department and used on their ambulances. The solution was named MedixSafe.
MedixSafe is the ambulance trade's first, simplest dual access security solution. It is also the ambulance trade's most technologically-advanced triple access security solution. Incorporating both proximity card readers and PIN pads, MedixSafe technologies allow for individual accountability and automated record keeping - assuring compliance with new, stricter regulations.
For more information visit medixsafe.com or call toll free 855-MEDIXSAFE