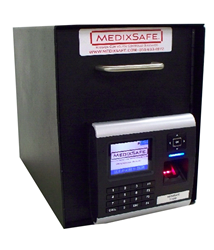 revolutionary inventory tracking system and real time email notification for total accountability
(PRWEB) November 30, 2014
Memphis, TN: MedixSafe does it again. Already the leader in ambulance narcotics security, MedixSafe continues to raise the bar with new products and features. This new line of narcotics lockers (yet to be named) is years ahead of competitors. The biggest feature is a revolutionary inventory tracking system and real time email notification for total accountability. Product names and detailed specifications will be released December 15, 2014.
MedixSafe narcotics lockers are the most technologically advanced narcotic safes on the market. They are equipped with a stand-alone networkable TCP/IP based controller and designed to require combinations of fingerprint, PIN and/or Proximity Cards to gain access. This new reader allows MedixSafe to store up to 200,000 users and a 1,000,000 event activity log. They can also connect directly to a wireless communication device at 100 Mbps which allows them to have fingerprint additions/deletions and user activity uploaded/downloaded without having to go directly to the ambulance. Plus inventory tracking and real time email notifications so administrators can now know instantly when the MedixSafe is accessed. Administrators can now see who accessed the MedixSafe and what they took for total accountability. Hard wiring to an existing network for additional office/storage locations is also an option.
MedixSafe software is a web-based access control solution that is easy to manage from any computer running a standard web browser. The embedded web browser interface comes with the following features: 1) Interactive embedded help screen. 2) Intuitive icons. 3) Descriptive, easy-to-understand information. 4) Well organized web menu and programming for fast setup.
MedixSafe was created by Electronic Security Specialists, a Memphis-based, electronic security company with over 30 years in the security arena. In the spring of 2009 through a series of circumstances Electronic Security Specialists was contacted by Fire Commissioner Ted Kets, Jericho, NY. Kets had a problem that needed a secure solution; he was responsible for securing and accounting for all the narcotics purchased by Jericho Fire Department and used on their ambulances. The solution was named MedixSafe.
MedixSafe is the ambulance trade's first, simplest dual access security solution. It is also the ambulance trade's most technologically advanced triple access security solution. Incorporating both proximity card readers and PIN pads, MedixSafe technologies allow for individual accountability and automated record keeping - assuring compliance with new, stricter regulations.
For more information visit medixsafe.com or call toll free 855-MEDIXSAFE