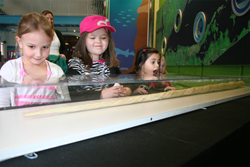 Norwalk, CT (PRWEB) March 17, 2014
Visitors to The Maritime Aquarium at Norwalk can check out a rare 7-foot narwhal tusk that's on loan to the Connecticut attraction now through April 7.
Cousins to beluga whales, narwhals are called "the unicorns of the sea" because of their single spiraling tusks.
The tusk is on exhibit at The Maritime Aquarium in advance of a lecture on April 7 by Dr. Martin Nweeia, a Sharon, CT, dentist who is also one of the top narwhal experts in the U.S. Nweeia will share what he's learned about the purpose and function of narwhal tusks. Tickets for the 8 p.m. talk are $10 ($8 for Aquarium members).
Narwhal tusks are treasured by collectors and by those who seek the ivory. In Canada, the Inuit people may legally harvest narwhals and sell the tusks. However, it is illegal to import the tusks into the United States. (Most recently, in February 2014, a Maine court convicted a New Jersey man for his participation in a tusk-smuggling operation.)
The tusk displayed at The Maritime Aquarium is on loan from a Greenwich family that has owned it since long before narwhal protection laws were passed.
Because narwhals are rarely seen and boast an unusual tusk, some people have believed them to be mythical. But they're very real. They're mainly found in large pods in Baffin Bay off Canada and western Greenland. Not counting their tusks, narwhals grow to 13 to 18 feet long.
Dr. Nweeia is a National Fellow of the Explorers Club, and has been awarded grants for his narwhal research from the National Science Foundation, the National Endowment for the Arts, Harvard University, the Smithsonian Institution and the National Geographic Society. He was a Graduate Research Fellow in the Department of Anthropology at the Smithsonian Institution, and currently is a research associate in the Marine Mammal Program at the Smithsonian.
Get more details about Dr. Martin Nweeia's April 7 lecture – or reserve tickets – online at http://www.maritimeaquarium.org or by calling (203) 852-0700, ext. 2206.