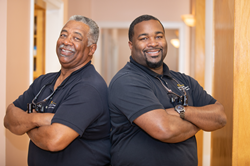 If nothing is done to preserve the socket after a tooth extraction, 40 to 60 percent of the remaining bone in the area will be lost in the first year.
Vicksburg, MS (PRWEB) August 29, 2019
Drs. Jonathan Nash and Kenneth Nash of Nash Family Dentistry raise awareness of the harmful effects of leaving tooth loss unmanaged. Whether due to infection, disease or trauma, if a tooth is lost it should be replaced in order to restore complete health and function and prevent bone loss. In order to prevent thinning and receding bone, shifting teeth and a change in facial aesthetics, Drs. Nash offer comprehensive treatment plans including bone grafting and dental implant placement at their Vicksburg, MS practice.
Bone loss may occur as a result of untreated gum disease or when a natural tooth is extracted or lost and not replaced with a dental implant. One primary function of a natural tooth root is to stimulate healthy jawbone growth. Over time, without a tooth root, the bone will begin to recede. Though not visible at first, bone loss can eventually change a patient's appearance by giving the jaw an older, sunken-in appearance.
By placing a titanium implant post directly into the space left behind by a lost tooth, dental implants take the responsibility of a natural tooth root and inspire healthy jawbone density for years to come. However, patients who have suffered significant bone loss may not qualify for dental implants without undergoing a bone grafting procedure first. Dental implants require enough bone to stabilize the implants and improve the likelihood of long-term success.
Drs. Nash offer custom bone grafting treatments depending upon the needs of their patients. A common treatment, socket preservation rebuilds bone in the tooth socket after a tooth is extracted. If nothing is done to preserve the socket after a tooth extraction, 40 to 60 percent of the remaining bone in the area will be lost in the first year. Ultimately, the purpose of any bone grafting treatment is to rebuild the proper width, height and density necessary for a dental implant post to properly integrate with the bone and offer a lasting, functional and aesthetically pleasing smile.
Those interested in meeting with Drs. Nash to discuss their candidacy for dental implants or bone grafts may contact their practice in Vicksburg, MS, at 601-634-1812.
About the Dentists
Nash Family Dentistry is a general practice offering personalized dental care for patients in Vicksburg, MS. Dr. Kenneth Nash, Dr. Jonathan Nash and their team provide patients with the latest in dental technology in a comfortable and welcoming environment. Drs. Nash offer a variety of services including laser dentistry, dental implants, and cosmetic dentistry services, among others. To learn more about the services offered at Nash Family Dentistry please visit the website at http://www.vicksburgdentist.com or call 601-634-1812 to schedule an appointment.