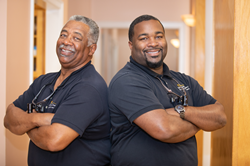 The first thing you notice when you meet someone is their smile. It is the handshake before the handshake.
VICKSBURG, Miss. (PRWEB) June 18, 2020
The dentists at Nash Family Dentistry now welcome patients with or without referrals to receive comprehensive cosmetic dentistry in Vicksburg, MS and create healthy, confident, and beautiful smiles. Cosmetic dentistry is the dental focus that enhances the appearance and aesthetics of teeth, gums and the overall smile. Drs. Kenneth Nash and Jonathan Nash are experienced in restoring beauty to patient smiles through a wide range of effective treatments, including porcelain veneers, dental implants and orthodontics.
"The first thing you notice when you meet someone is their smile. It is the handshake before the handshake," says Dr. Kenneth Nash. "Porcelain veneers can improve your smile with minimal damage or destruction to surrounding teeth. Patients that have veneers have an increased confidence level and are more proud to show their smile."
Cosmetic dentistry is the focus on improving the aesthetics of the smile. This includes the shape, color, spacing and size of teeth, as well as how the teeth and gums are displayed when a patient smiles. Drs. Nash both pride themselves on taking the time to truly understand a patient's needs, goals and wants before beginning any cosmetic or dental procedure. This allows them to offer patients the most appropriate services to meet their individual needs. Common cosmetic dentistry treatments can include:

Porcelain veneers
ClearCorrect orthodontics
Snap-On Smile®
Patients can choose to have a single cosmetic dentistry treatment performed or create a smile makeover treatment plan that includes multiple procedures that share the end goal of improving the look and function of the mouth. These smile makeovers and can drastically enhance the look of the smile, and in some cases, even improve the overall function of the teeth and mouth as a whole.
For patients looking for a quick and minimally invasive way to get a beautiful smile, porcelain veneers prove to be an effective solution. Veneers are thin covers that are placed over the front of teeth to create a beautiful smile. What makes porcelain veneers so unique is that they are very minimally invasive as compared to other treatments. In most cases, patients are able to enjoy a new, attractive smile with veneers in just two appointments. Additionally, veneers can correct a multitude of concerns at once, including enhancing the color, shape, alignment and spacing between teeth without having to receive surgery or corrective work.
Those interested in learning more about porcelain veneers or other treatments available for cosmetic dentistry in Vicksburg, MS are invited to schedule a consultation with Nash Family Dentistry. To make an appointment with Drs. Nash, visit their website at http://www.vicksburgdentist.com or call 601-634-1812.
About the Dentists
Nash Family Dentistry is a general practice offering personalized dental care for patients in Vicksburg, MS. Dr. Kenneth Nash, Dr. Jonathan Nash and their team provide patients with the latest in dental technology in a comfortable and welcoming environment. Drs. Nash offer a variety of services including laser dentistry, dental implants, and cosmetic dentistry services, among others. To learn more about the services offered at Nash Family Dentistry please visit the website at http://www.vicksburgdentist.com or call 601-634-1812 to schedule an appointment.