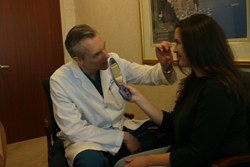 You need to have confidence that your surgeon's answers are accurate and designed with your best interest at heart, even if it means that the recommendation is against doing the procedure....
Nashville, Tennessee (PRWEB) July 18, 2013
In response to a new article on cosmetic surgery negligence (Cosmetic Surgery Solicitors, July 16,2013), cheek implants gone wild in the celebrity media and problems with fillers, women are finally coming to the conclusion that they need to be more careful when choosing a plastic surgeon. Decisions about cosmetic surgery are very important and personal. Wise, safe choices regarding plastic surgery procedures need to be made after much consideration.
If someone was considering having plastic surgery, how should they begin the decision-making process?
What is the most important decision when considering a cosmetic surgery? It is not as physical as you might suspect. Set aside considering the surgery in the first place – a physical matter in itself – and the biggest decision to make has nothing to do with appearances.
Dr. Alexander Nein, a plastic surgeon in Nashville, Tennessee, puts it this way: "As with any surgery, the single most important factor in the success of cosmetic plastic surgery is the surgeon you select."
Surprised by that answer? Many are, until they consider that cosmetic surgery goes much deeper than the surface. The decision to have cosmetic surgery is like any other significant medical decision in life. Relying on chance is not the way to go.
So how should someone decide on a plastic surgeon? Based on their years as a doctor, on their age, the size of their practice, or the scale of the surgeon's advertising exposure? What is the right path to finding the right fit in a plastic surgeon?
The best decisions we make are, generally, the informed ones. (Okay, so sometimes a whim works out for what we have for lunch, or even with romance.) It could be a simpler matter than surgery, such as choosing a tattoo, or buying a couch, a car, or even groceries, but the best decisions happen – and the best results come – from an informed standpoint.
Dr. Nein says a person needs to be as informed as possible and feel comfortable with a surgeon well before they come to a conclusion on plastic surgery. "The discussions with a surgeon are an important process," he says. "You should not take this aspect of the process lightly. As a patient with any doctor, you should feel comfortable discussing your desires and expectations. Be certain [that] you fully understand the procedure, [such as] where [the surgery] will be performed, the expected recovery time and the real risks of the procedure."
Nein warns people not to be drawn to the aura of market presence when they choose a cosmetic surgeon. "After all, you're not buying a couch or a car," he relates. "You're going to entrust someone to operate on you and improve your appearance."
So how does a person find a suitable surgeon? "Word of mouth is perhaps the best way," Nein says. "Not just who you and your friends have heard of the most, but which doctor has actually performed similar operations on people who you know.
"I say 'similar' operations," he continues, "because even very skilled surgeons develop more expertise in [particular] procedures. So ask people you know who they've been to and what their experience has been."
On the other hand, Nein, who settled in Nashville after completing his plastic surgery residency there, says, "You may be new to town, or not wish to discuss your interest in cosmetic surgery with all your friends. [So] word of mouth may not be possible. Start with [the surgeon's] training and experience."
"Individual results can vary, [but] consistently superior results can only come from skilled surgeons who understand what you're trying to achieve and have the skills to accomplish those goals," Dr. Nein says. "Those skills are obtained only through training and experience.
"You'll probably hear the same few surgeons mentioned repeatedly," Nein says. "This is valuable first- hand information for you." However, Nein knows that not all candid opinions are of the same quality. "Try to take comments posted on the Internet with a grain of salt."
While keeping others' opinions in perspective, Nein urges people to keep their desires in perspective, too: "Remember, cosmetic surgery is elective surgery – you do not have to [get the procedure] done. Even [with] recommendations from friends, conduct your own research to verify the surgeon's training and experience, then weigh your decision carefully."
Nein recommends confirming a surgeon's credentials. He says to ask the surgeon questions and expect to get thorough, expert answers.
"Check for certification by the American Board of Plastic Surgery. Don't be confused by other official- sounding boards and certifications," Nein says. "In most states, it is legal for any physician who holds a medical license, with or without surgical training, to practice cosmetic or plastic surgery. This is why board certification is so important for the person seeking cosmetic surgery."
He mentions that a simple statement that a physician is board certified is not enough. There are physicians who do perform plastic surgery, but they are board certified in other specialties, and not in plastic surgery.
"So find out exactly which specialty the board certification is in," the certified plastic surgeon says.
Certification by the American Board of Plastic Surgery means that a surgeon has completed medical school and has completed an approved plastic surgery residency. Certification also means that they have been in plastic surgery practice at least two years. (The American Board of Plastic Surgery is the only board recognized by the American Board of Medical Specialties, which encompasses a diverse group of medical disciplines. It certifies surgeons in plastic surgery, and specifically in cosmetic and reconstructive surgery. There is not another ABMS-recognized board for cosmetic surgery.)
If there is any confusion about a surgeon's board certification, visit ABPS online, at http://www.abplsurg.org. One may also call the American Society of Plastic and Reconstructive Surgery (ASPS) at 1-800-766-4955 to confirm certification and member status of a surgeon. The ASPS represents nearly all board certified plastic surgeons (97 percent). Many plastic surgeons who have a specific interest in cosmetic surgery are also members of the American Society of Aesthetic Plastic Surgery, online at http://www.surgery.org.
Do not be afraid to ask questions of the surgeon. "You need to have confidence that your surgeon's answers are accurate and designed with your best interest at heart, even if it means that the recommendation is against the procedure," Nein says. "You should believe that your surgeon would rather turn your business away rather than risk your health and well-being on a cosmetic operation."
When it comes to a person's well-being, Nein assures, "The risks of cosmetic surgery are very low and most people are very happy with their results."
Dr. Nein offers his advice for how to select a surgeon in the following nine factors. One should be sure that these things are true about a plastic surgeon and his practice:
Above all, Nein reiterates that you should have confidence in your plastic surgeon and your relationship with him.
Check list to follow:

Board certified in plastic surgery
Comfortable discussing your desires and expectations
Answers your questions accurately
Focused on your best interests, in your health, safety and happiness Medical team is highly qualified
Surgical facility is accredited
A warm and caring staff
A caring bedside manner
Thorough follow-up after the procedure
About Alexander Nein, M.S., M.D.:
Dr. Alexander Nein is a graduate of Purdue University and the University of Alabama, where he earned his Doctor of Medicine degree. He completed his plastic surgery residency at Vanderbilt University Medical Center and is certified by the American Board of Plastic Surgery. He has a solo, private plastic surgery practice in Nashville. He is a member of several national and international professional organizations in the field.
You may learn more about Dr. Nein and his practice online, at http://www.DrNein.com. His practice is located at 2400 Patterson Street, Suite 202, Nashville, Tennessee 37203; call his practice at 615-327-0201.
For more information:
Anthony Zecco
Warehouse Multimedia, Inc. pr(at)warehousemultimedia.com 615.420.6153