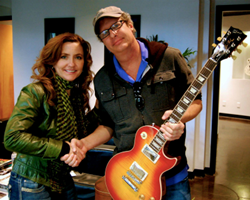 SAE Institute is a world leader in audio engineering education, and our donation of the Gibson Les Paul Min-ETune guitar represents our recognition of the Nashville school's excellence.
Nashville, TN (PRWEB) May 22, 2014
Gibson Guitar Corporation, one of the world's leading guitar manufacturers, donated a 2014 Les Paul Standard guitar with the patented Min-ETune™ self-tuning technology to SAE Institute's Nashville campus. The guitar will be used by SAE's Audio Technology Program students in their studies and studio work.
"Gibson is an iconic brand, and to have access to one of their new guitars with this cutting edge technology is a big win for our audio engineering students," says SAE Institute Nashville Campus Director Lynn Dorton. "Once they graduate from SAE and begin their careers in music, film, TV, live performance, or gaming, our students will be able to recommend the guitar as a valuable, time-saving solution for musicians and studio owners."
Gibson's Min-ETune guitars debuted on their 2013 models, including the Les Paul line and the SG line. The guitars are light, they tune fast, and require no modifications. The self-tuning is achieved by a single non-invasive piezo pickup that reads the frequencies of the guitar's strings. An onboard microcomputer analyzes the frequencies, then sends correction signals to the motorized headstocks, which adjust any out-of-tune strings.
"SAE Institute is a world leader in audio engineering education, and our donation of the guitar represents our recognition of the Nashville school's excellence," says Gibson USA Product Evangelist Bart Walsh. "We wanted to get this revolutionary product into the hands of SAE's audio engineering students so they could try it, test it, and learn how it could be an asset to them once they get into real-world studio scenarios, where projects need to be delivered on-time and on-budget."