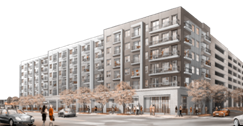 The Dallas on Elliston, Elegant Historical Residences in Downtown Nashville, TN, are Now Available
Nashville, TN (PRWEB) July 22, 2014
Located at the epicenter of west end Nashville, The Dallas on Elliston is a landmark location designed for those who desire modern living and rich amenities in two luxurious and spacious floor plans. This upscale setting is the perfect solution for affluent lifestyles.
The Dallas on Elliston will please its residents with rich features and amenities to suit. The large open floor plans emphasize individuality in a two-story loft design. Each unit is fully equipped with state-of-the-art designer kitchens, stainless steel appliances, and beautiful countertops. Washers and dryers are included. Baths feature classic tile and stone materials for beauty and longevity, and balcony and poolside views are available from selected units.
Outdoors at The Dallas on Elliston, residents will enjoy the conveniences of a 24-hour fitness center, a refreshing salt water pool, and a poolside barbecue and lounge to keep up on social acquaintances. Onsite amenities include a cutting-edge cycling maintenance shop, a pet grooming lounge, and an option for package receiving. Secure, controlled-access garage parking is conveniently located on the premises.
The surrounding neighborhood is nothing short of phenomenal. Conveniently located on this rich historical landmark at 21st and Elliston, The Dallas on Elliston is only two blocks from Vanderbilt University, four blocks from Music City Bikeway, five blocks from famous Centennial Park, and only two blocks from a Bus Rapid Transit (BRT) stop. Dining, shopping, and entertainment is at the heart of The Dallas on Elliston, and residents are ecstatic.
With a secure website designed just for residents for convenient online rent payment options and premiere customer service, those living at The Dallas on Elliston are part of a modern, social, and eclectic atmosphere where they feel at home. The Dallas on Elliston apartment-style living is really so much more than that. To see The Dallas on Elliston for the first time, visit the website to learn about the history of this beautiful space, view spacious floor plans, see photos, view a map, and more: The Dallas. For a grand tour, contact The Dallas on Elliston by phone or complete an online form to speak with a representative about reserving a fine luxury living space.
About The Dallas on Elliston
The Dallas on Elliston is a tribute to a historical Nashville location and an amazing political figure, Anne Dallas Dudley, who was instrumental in giving women the right to vote among other notorious accomplishments. The Dallas on Elliston is founded on true Nashville history.
Contact Information
Phone 615.988.9515
Address 2110 Elliston Place, Nashville, TN 37203
Website The Dallas on Elliston
Contact Connect with us to reserve luxury living today!