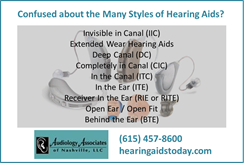 Nashville, Tennessee (PRWEB) October 13, 2013
Hearing aids can be hard to research because of the vast amount of new vocabulary and acronyms used to refer to them. It is especially tough for the first time hearing aid buyer.To help consumers make sense of the numerous styles and the definitions of all the acronyms, Audiology Associates & Hearing Aids Today recently published a user-friendly list online at Hearing Aid Models and Styles: A Primer on Abbreviations for Today's Hearing Aid Choices
The guide is presented alphabetically and contains information on these primary Nashville hearing aid types - Behind the Ear (BTE), Completely in Canal (CIC), Deep Canal (DC), Extended Wear Hearing Aids, Half Shell (HS), In the Ear (ITE), In the Canal (ITC), Invisible in Canal (IIC), Open Ear / Open Fit, Receiver In the Ear (RIE or RITE), and Power.
A side-by-side listing of all the major hearing aid styles quickly reveals why shoppers often have difficulty making sense of the similar names and acronyms. Despite the very similar names, these hearing aid styles differ in crucial ways. It is the purpose of the quick reference guide created by Audiology Associates & Hearing Aids Today to highlight these fundamental differences. While noting that online research is an important part in selecting the ideal hearing aid, Audiologists would caution potential buyers that there is a lot of additional information to be obtained by talking to a hearing care expert. The Audiologists help buyers narrow the options by inquiring about lifestyle, activities and the environments in which the hearing aid is going to be used. These are all important aspects in choosing the right hearing aid.
About Dr. Jina Scherer:
Dr. Jina Scherer completed her undergraduate studies in Audiology and Speech Sciences at Michigan State University and received her Doctor of Audiology degree from Central Michigan University. She is a licensed Audiologist in the state of Tennessee and holds her Certificate of Clinical Competence in Audiology (CCC-A). She is also a Fellow of the American Academy of Audiology (FAAA). She is an active member in the American Speech Language Hearing Association (ASHA), the American Academy of Audiology, the Ear Foundation, and the Tennessee Association of Audiologists and Speech-Language Pathologists.
About Audiology Associates & Hearing Aids Today:
Audiology Associates & Hearing Aids Today is the leading provider of hearing loss services and hearing aids in Nashville TN. The goal at Audiology Associates & Hearing Aids Today is to provide clients with the best possible hearing care, based upon their individual needs. They offer a full range of diagnostic services to determine the cause of any hearing loss and a full line of hearing protection products and custom ear plugs for musicians, shooters and hunters. If a patient has a hearing loss that can be improved with hearing aids, the staff carefully works with that patient's unique hearing profile, lifestyle and budget to select the best possible hearing aid. Once selected, the team works with new patients to properly adjust the hearing aid for different sound environments and provides support tools to help the brain properly interpret the sounds it has been deprived of. Audiology Associates & Hearing Aids Today wants to be your total hearing health care provider.
Contact:
Dr. Jina Scherer
http://www.hearingaidstoday.com
Audiology Associates & Hearing Aids Today
99 White Bridge Rd , Ste 106
Nashville, TN 37205
(615) 457-8600