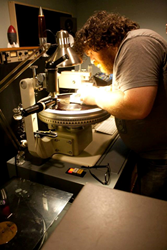 SAE's curriculum taught me the basics about a lot of important areas of audio engineering. The skills that I learned gave me the confidence to walk into any studio and know how to make a record.
Nashville, TN (PRWEB) December 10, 2014
Welcome to 1979, an analog recording studio in Nashville, has recently made their direct-to-disk recording, mastering, and vinyl cutting services available to its clients. SAE Nashville Audio Technology Program graduate, Cameron Henry, oversees and runs the live mastering and vinyl cutting processes of these sessions.
"We're only one of a handful of facilities in the world that can record a client's performance and simultaneously master and cut a vinyl lacquer live," says Henry. "The mastering lathe that I use is a Neumann VMS 70 that was manufactured in 1973, and the results honestly sound better than any tape machine or Pro Tools rig that I've ever heard."
Henry lived in Nashville from the age of 8 until he was 14. He learned to play guitar from Tom Leadon, who had been the guitarist for Tom Petty's band Mudcrutch and whose brother Bernie was the original lead guitarist for The Eagles. At 15, Henry and his family moved to Toledo, OH and graduated from Southview High School in 2002.
He experimented with audio engineering by recording bands on four-track Portastudio and Fostex MR-8 machines in his parents' basement and at his friends' gigs around Toledo, and he became fascinated by the process. Realizing that he wanted to pursue a career in studio production, he researched colleges that specialized in audio technology.
"I visited SAE's Nashville campus in 2007, and loved the facilities," says Henry. "When I learned that I'd have access to the school's studios whenever I wanted it, I signed up, moved back to Nashville, and started classes a month later. SAE's curriculum taught me the basics about a lot of important areas of audio engineering, but the most crucial part of my learning was practically living in the school's excellent studios and working on projects outside of my regular school work - that experience really helped me after I graduated in 2008."
Henry's first post-graduation gigs included stints as an assistant and as a session engineer at Welcome to 1979. He also freelanced as an overdub and mix engineer in his own home studio that he built. In 2013, he joined Welcome to 1979 on a full-time basis, and became the studio's Vinyl Mastering/Lathe Operator/Recording Engineer.
Henry's advice for current SAE students is simple: get in the studio.
"If you're not working or sleeping, then you should be working on projects in SAE's studios," says Henry, who has worked on vinyl releases for a variety of artists/projects, including Sturgill Simpson, Jason Isbell, Sean Michel, Wu Tang Clan, and the 30th anniversary edition of the "Ghostbusters" soundtrack. "The advantage that SAE gave me was the ability to spend time in their great studios learning signal flow and experimenting with equipment. The skills that I learned gave me the confidence to walk into any studio and know how to make a record."
About SAE:
SAE Institute provides aspiring creative media professionals with a foundation of practical theory and valuable hands-on training in their chosen areas of concentration. Under the guidance of our faculty, which is comprised of working industry professionals, students gain the essential experience they need for entry-level jobs in the entertainment business. Our students are supported in their job searches by SAE's international network of alumni, many of whom are leaders in the music, film, game arts, and live performance arenas. We offer programs in audio technology across our seven US campuses, along with a music business program at select locations, all fully accredited and focused on preparing students for employment when they graduate. Bachelor's Degree programs in Animation, Audio, Film, Game Art & Graphic Design are available at the two locations of Ex'pression College, which is owned and operated by SAE Institute Group, Inc. SAE Institute Group, Inc. is a part of Navitas LTD. Learn more at USA.sae.edu.
About Navitas:
Navitas is an Australian global education leader, providing pre-university and university programs, English language courses, migrant education and settlement services, creative media education, student recruitment, professional development, and corporate training services to more than 80,000 students across a network of over 100 colleges and campuses in 27 countries. Learn more at Navitas.com.