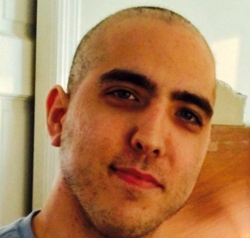 Rick was a valedictorian at SAE Nashville as well as the recipient of our prestigious Sonum Perfectum Scholarship. We're hoping that he can recover quickly so he can get back into the studio and deliver amazing results on his own projects and for clients.
Nashville, TN (PRWEB) February 03, 2015
A benefit concert for Rick Franklin, the valedictorian of the August 2014 class of SAE Institute Nashville, will be held on Friday, February 13 at The East Room in Nashville. Funds raised at the event, which is named Psychedelrick, will be used to pay for medical treatments for Franklin, who has been diagnosed with Non Hodgkin's Lymphoma.
"Rick was not only a stellar student at SAE Nashville, he was also selected among thousands of nationwide applicants to receive our prestigious Sonum Perfectum Scholarship," says SAE Nashville Campus Director Lynn Dorton, who is donating a microphone kit to be auctioned off at Psychedelrick. "We're hoping that he can recover quickly so he can get back into the studio and deliver amazing results on his own projects and for clients."
Franklin was born in Athens, Georgia, and currently lives in Clarksville, TN. He attended Rossview High School and graduated through the Adult ABC Home School in 2006. In 2013, he enrolled in the Audio Technology Program at SAE Nashville.
Prior to his graduation from SAE, he had been visiting doctors to find the reason for his sudden onset of headaches, nausea, chest pain, and breathing difficulty. On August 22, 2014, the day of his graduation from SAE, he learned that he had a tumor, which after being biopsied, turned out to be Non Hodgkin's Lymphoma. The tumor was over five inches long and snaked through his chest and surrounding organs. It was blocking oxygen to his brain and had been the cause of his pain and nausea.
Franklin recently finished six rounds of chemotherapy at the Tennessee Oncology Center at Centennial Hospital. The medicine that was administered, which was extremely toxic, was monitored closely by nurses throughout his treatments. Rick will soon begin six weeks of radiation therapy, which will happen five days per week.
"There are five regional music acts performing at Psychedelrick: Ttotals, Penicillin Baby, The Mumzees, Harpooner, and The Jag," says Kari Ames, a friend of Franklin's who's organizing the concert. "The event will also feature a traditional oil-and-water projection light show, courtesy of the Dig Deep Light Show, as well as a raffle with donations of products and services from local businesses. All proceeds will be used to help pay for Rick's treatments."
The Psychedlrick benefit concert event will take place at The East Room, 2412 Gallatin Avenue in Nashville on Friday, 2/13, beginning at 7pm. For more information about Psychedelrick, visit the event's Facebook page.
Monetary donations can be made to Franklin via his GoFundMe.com page. To arrange the donation of items for auction at Psychedelrick, contact Kari Ames (karitalentt(at)gmail(dot)com) or by phone at 615-300-4474.
About SAE
SAE Institute provides aspiring creative media professionals with a foundation of practical theory and valuable hands-on training in their chosen areas of concentration. Under the guidance of our faculty, which is comprised of working industry professionals, students gain the essential experience they need for entry-level jobs in the entertainment business. Our students are supported in their job searches by SAE's international network of alumni, many of whom are leaders in the music, film, game arts, and live performance arenas. We offer programs in audio technology across our seven US campuses, along with a music business program at select locations, all fully accredited and focused on preparing students for employment when they graduate. Bachelor's Degree programs in Animation, Audio, Film, Game Art & Graphic Design are available at the two locations of Ex'pression College, which is owned and operated by SAE Institute Group, Inc. SAE Institute Group, Inc. is a part of Navitas LTD. Learn more at USA.sae.edu.
About Navitas
Navitas is an Australian global education leader, providing pre-university and university programs, English language courses, migrant education and settlement services, creative media education, student recruitment, professional development, and corporate training services to more than 80,000 students across a network of over 100 colleges and campuses in 27 countries. Learn more at Navitas.com.