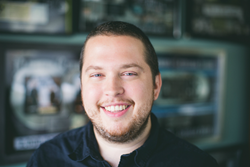 My students at SAE Nashville benefit from hearing about the challenges and opportunities that I face on a daily basis, and can learn from both the wins and losses that I've had.
Nashville, TN (PRWEB) July 07, 2015
Lloyd Aur Norman, an adjunct faculty member of the Music Business Program at SAE Institute Nashville, directed the lyric video for Florida Georgia Line's hit song "Dirt", which was recently awarded Gold at the international 2015 Hermes Creative Awards as well as a Bronze statue at the 36th Annual Telly Awards.
"To be given esteemed awards like a Telly and an Hermes creates a sense of pride in our work," says Norman, who has also won five Addy awards for design from the American Advertising Federation. "I'm incredibly grateful for the opportunities that I've been given and the amazingly talented people who worked with me on 'Dirt'."
Norman's video for "Dirt", which was shot in Nashville and Copper Canyon Ranch in Hopkinsville, KY, has garnered close to 3,000,000 online views. Florida Georgia Line featured it during an appearance on ABC's "Good Morning America" in 2014 and continues to use it during their concert performances of the song. When initially released, the video was featured by CMT, VH1, MTV, and on RollingStone.com.
In his work at SAE Nashville, Norman shares the experiences of his professional endeavors with his Music Business Program students. His goal is to provide them with the real world insights that will make them better prepared for their careers in the entertainment industry.
"Teaching is the highest form of learning, and being around the SAE students - who are so hungry for knowledge and opportunity - has kept me hungry for the same things," says Norman, who has directed music videos for such acts as Big & Rich, Dallas Smith, The Christian Lopez Band, Ted C. Fox, Chris Lane, The Black Feathers, and kidDead. "I believe that the students benefit from hearing about the challenges and opportunities that I face on a daily basis, and can learn from both the wins and losses that I've had."
About SAE
SAE Institute provides aspiring creative media professionals with a foundation of practical theory and valuable hands-on training in their chosen areas of concentration. Under the guidance of our faculty, which is comprised of working industry professionals, students gain the essential experience they need for entry-level jobs in the entertainment business. Our students are supported in their job searches by SAE's international network of alumni, many of whom are leaders in the music, film, game arts, and live performance arenas. We offer programs in audio technology across our seven US campuses, along with a music business program at select locations, all fully accredited and focused on preparing students for employment when they graduate. Bachelor's Degree programs in Animation, Audio, Film, Game Art & Graphic Design are available at the two locations of Ex'pression College, which is owned and operated by SAE Institute Group, Inc. Learn more at USA.sae.edu. SAE Institute Group, Inc. is a part of Navitas LTD (Navitas.com).