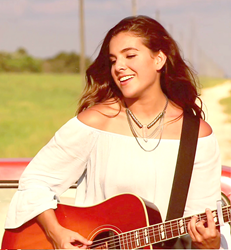 SAE's Music Business Program curriculum is enhancing my songwriting pursuits and it's also teaching me what I need to know in order to understand the business of being a professional recording artist.
Nashville, TN (PRWEB) October 29, 2015
Valentina Rico, a student in the Music Business Program at SAE Institute's Nashville campus, has released the country pop song "Settle" on CdA Music Group, a leading Latin music label based in Miami, FL. Along with composing "Settle" and its Spanish version "Me Qeudo", Rico also sings and plays guitar on the tracks, which mark her debuts as a solo artist.
"I discovered CdA through (multi-platinum selling producer and engineer) Carlos Bedoya, who I had been working with on songwriting and other projects for Latin American artists," says Rico, who counts the singer/songwriters Sara Bareilles, Shakira, and Alejandro Sanz as her biggest influences. "We spent a lot of time at CdA's studios, and last year, the company offered me an opportunity to do my own project with them. 'Settle' is our first release together."
Originally from Colombia, Rico moved to Fort Lauderdale with her family as a child and graduated from Fort Lauderdale High School in 2014. She had been active as a songwriter, singer, and guitarist while growing up, and after high school, she moved to Tennessee and enrolled in SAE Nashville's Music Business Program.
"After discovering SAE, I loved it - I didn't even look at other schools," says Rico, who'll graduate from SAE in 2016. "The curriculum is enhancing my songwriting pursuits and it's also teaching me what I need to know in order to understand the business of being a professional recording artist.
"Settle" and "Me Quedo" are available available on iTunes, Google Play, Amazon, and Spotify. In between her studies at SAE, Rico is working on follow-up releases with CdA Music.
"I would absolutely recommend SAE's Music Business Program to other recording artists and songwriters," says Rico. "It exposes you to knowledge and strategies that you can use in your career to create better music and deliver a more professional product to the market."
About SAE
SAE Institute provides aspiring creative media professionals with a foundation of practical theory and valuable hands-on training in their chosen areas of concentration. Under the guidance of our faculty, which is comprised of working industry professionals, students gain the essential experience they need for entry-level jobs in the entertainment business. Our students are supported in their job searches by SAE's international network of alumni, many of whom are leaders in the music, film, game arts, and live performance arenas. We offer programs in audio technology across our seven US campuses, along with a music business program at select locations, all fully accredited and focused on preparing students for employment when they graduate. Bachelor's Degree programs in Animation, Audio, Film, Game Art & Graphic Design are available at the two locations of Ex'pression College, which is owned and operated by SAE Institute Group, Inc. SAE Institute Group, Inc. is a part of Navitas LTD. Learn more at USA.sae.edu.
About Navitas
Navitas is an Australian global education leader, providing pre-university and university programs, English language courses, migrant education and settlement services, creative media education, student recruitment, professional development, and corporate training services to more than 80,000 students across a network of over 100 colleges and campuses in 27 countries. Learn more at Navitas.com.