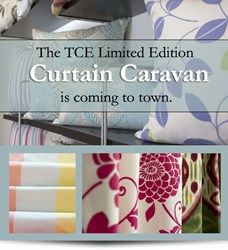 'This is a wonderful opportunity for our friends and customers to purchase curtains that no one else in the area will have, because all of the curtains in the trunk show are limited edition.'
Nashville, TN (PRWEB) September 04, 2013
The Curtain Exchange, a Nashville curtain store, has announced the arrival of the TCE Limited Edition Curtain Caravan, a traveling trunk show that is holding pop-up events exclusively at several The Curtain Exchange locations. The trunk show will be at The Curtain Exchange of Nashville for the week of September 28 through October 5, and will offer customers the chance to shop for limited edition pillows and window treatments at drastically reduced prices. The curtains offered in the Curtain Caravan will not be available anywhere else and the fabrics are no longer being made, so these are truly unique offerings.
"We are very excited that the TCE Limited Edition Curtain Caravan is coming to Nashville," said The Curtain Exchange owner T.J. Aiello. "This is a wonderful opportunity for our friends and customers to purchase curtains that no one else in the area will have, because all of the curtains in the trunk show are limited edition. That means that our customers will have curtains hanging in their homes that no one else will have."
The Curtain Exchange is located at 4103 Hillsboro Circle, Nashville, TN 37215. Items from the trunk show are also available online for those who are not near a participating store.
The Curtain Exchange offers custom luxury drapes and ready-made designer drapery and window treatments in Nashville, Tennessee. In addition to a constantly updated line of fabrics that may be selected from to create custom draperies, The Curtain Exchange also carries a distinctive selection of ready-made curtain styles and offers drapery hardware and installation. The store's in-house consultants are happy to work with guests in-store or at home, and customers are encouraged to take advantage of The Curtain Exchange's 48 hour take home approval process. All of The Curtain Exchange's draperies are made in the USA. For more information or to schedule an in-home consultation, please visit thecurtainexchange.com. The Curtain Exchange can also be found on Facebook.