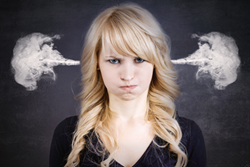 My road rage quickly diminished.
Nashville, TN (PRWEB) May 29, 2014
Polly Nelson, founder of Nashville Neuro-Training, a certified Brainwave Optimization® provider meets with clients of all ages with different backgrounds and situations that have one thing in common…anger. "It was not surprising to learn that enrollment in anger management courses, court-ordered or voluntary is reportedly booming," says Nelson.
Statistics show that about one out of every five people in the United States suffers from an anger management issue. A Harvard study recently reported nearly two-thirds of U.S. adolescents have experienced an anger attack in their lives that involved threatening violence or violent behavior.
What is Anger?
Anger by definition is an emotional state that may range from minor irritation to intense rage. The physical effects of anger include increased heart rate, blood pressure, and levels of adrenaline and noradrenaline. Some view anger as part of the fight or flight brain response to the perceived threat of pain.
Anger is a normal emotion, but it has to be channeled properly. It is important to learn how to deal with anger in a healthy way at a young age or it can lead to problems and affect the overall quality of one's life. While many teens experience mood swings and irritability, which is perfectly normal, recent reports by Harvard Medical School indicate many adolescents have experienced an anger attack that involved threatening violence, destroying property or engaging in violence toward others at some point in their lives. These studies also report severe attacks of uncontrollable anger are much more common among adolescents than previously recognized.
Anger Management
While some are enrolled in anger management classes, take prescription drugs, apply essential oils, meditate or practice deep breathing techniques, others are finding relief using an alternative approach called Brainwave Optimization®. Over 60,000 people worldwide have experienced breakthroughs utilizing Brainwave Optimization with RTB™ (Real Time Balancing). This process is an effective, holistic and non-invasive method of achieving greater brain balance and harmony. Improving brain function has shown to help with anger, anxiety, stress, pain, sleeplessness, addictive dependencies, injuries, traumatic brain injury (TBI), post-traumatic stress disorder (PTSD), and challenges to learning and performance.
"Through word of mouth and increasing referrals from therapists along with published research on the effectiveness of Brainwave Optimization®, more and more people are learning of this new modality and willing to give it a try," says Nelson. One of my male clients who recently used Brainwave Optimization® for addressing his anger, PTSD and sleeping issues reported, "I began seeing results pretty immediately where I was able to actually sleep up to 6 hours consistently and my 'road rage' was quickly diminished." More compelling client testimonials are available on Nashville Neuro-Training's website.
Additionally, Wake Forest School of Medicine has received substantial funding to investigate the role and value of Brainwave Optimization® for a variety of health objectives and produced sound evidence of it's effectiveness. Brain State Technologies® continues to produce case studies for those who are still skeptics and recently a middle-aged woman discussed finding relief from her anger through Brainwave Optimization® published in a Newsweek article titled "Mad to Worse."
Brainwave Optimization® (HIRREM™)
High-resolution, relational, resonance-based, electroencephalic mirroring (HIRREM™) or, as it's commercially known, Brainwave Optimization® (a product created by Brain State Technologies, LLC, Scottsdale, AZ), is a noninvasive process that uses a computerized system designed to reflect the brain's frequencies back to itself using musical tones.
About Polly Nelson
Director Polly Nelson founded Nashville Neuro-Training in 2009 after undergoing training at the corporate offices of Brain State Technologies® and is one of the early practitioners of the breakthrough technology known as Brainwave Optimization®. After experiencing remarkable relief from social phobia symptoms following Brainwave Optimization®, she decided that she wanted to help others by offering the service in her hometown of Nashville.
About Nashville Neuro-Training
Nashville Neuro-Training is the leading Brainwave Optimization® provider in middle Tennessee offering a cost-effective and efficient modality for those experiencing anger, anxiety, insomnia, PTSD, depression, TBI, addiction, ADD, ADHD or chronic pain.
Conveniently located in Brentwood, TN, Brainwave Optimization® is provided at our office six days a week with extended hours and affordable prices for initial assessments and sessions. Contact Nashville Neuro-Training to schedule an appointment or learn more about this breakthrough technology.
Brainwave Optimization with RTB™ (Real Time Balancing) is intended to facilitate relaxation and auto-calibration of neural oscillations. Individual results may vary. Brainwave Optimization with RTB™ is not intended to treat, cure, heal or diagnose any disease, mental illness or symptom. If currently under care with a primary care physician, therapist or other medical professional, you are encouraged to consult with them prior to beginning Brainwave Optimization with RTB™.