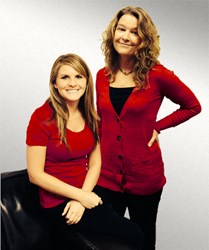 Wearing red is just the beginning.
Nashville, TN (PRWEB) February 18, 2014
Polly Nelson, Director of Nashville Neuro-Training and Brainwave Optimization® Provider in Brentwood, TN and her staff supported National Wear Red Day on Friday, February 7, 2014 and continue to "Go Red" for the entire month of February. "Wearing red is just the beginning, as an all female staff, we decided to become a part of the movement to help raise awareness about the importance of heart health on our website and through our social media channels," says Polly. Additionally, we are donating 10 percent of our proceeds for the month of February to the American Heart Association (AHA).
From a business professional's perspective, it can be a challenge keeping up with day-to-day demands while staying active and healthy. Many find it tricky to eat a healthy diet and make time for daily exercise with such busy schedules. It's important to know that those who experience persistent lack of sleep (insomnia) can increase their risk of developing health issues including heart disease. Learning that heart disease is the biggest issue killing one in three women every year is not only an alarming statistic but should be addressed immediately by everyone.
Sleep Deprivation Increases Heart Risk
Many studies conducted have reported that inadequate sleep appears to contribute to cardiovascular disease. "In addition to eating right and exercising, one must consider their sleep quality, as it not only promotes a healthier life but also a healthier heart", adds Polly. Brainwave Optimization® sessions provide resonance between musical tones and the electrical circuits in a person's brain, which can bring balance to the two hemispheres of the brain and has shown to reduce symptoms in a recent pilot study by Wake Forest School of Medicine of people with insomnia.
"As a Brainwave Optimization® Provider, I meet with female clients that are business professionals, homemakers, or both that are seeking help with sleeping, stress, anxiety, insomnia, addiction, and inability to concentrate or focus. Most of which can wreak havoc on the body, including the heart", says Polly. It is our mission at Nashville Neuro-Training this month and throughout the year to encourage others to learn more about improving their heart health and join the Go Red For Women movement.
About Go Red For Women
The American Heart Association's Go Red For Women® movement raises awareness about women's risk of heart disease and offers a variety of resources with information about the movement, heart-healthy tips and recipes, informative stories, instructions on how everyone can take action and much more. They even put together this meaningful acronym on what it means to GO RED:
G – Get your numbers (blood pressure and cholesterol).
O – Own your lifestyle (stop smoking, exercise and eat healthy).
R – Realize your risk (heart disease kills 1 in 3 women each year).
E – Educate your family (make healthier choices, teach kids the importance of exercise).
D – Don't be silent (tell every woman you know that heart disease is the No. 1 killer).
Go Red For Women is nationally sponsored by Macy's and locally sponsored by Saint Thomas Heart. For more information, visit NashvilleGoRed.Heart.org.
About Polly Nelson
Director Polly Nelson founded Nashville Neuro-Training in 2009 after undergoing training at the corporate offices of Brain State Technologies® in Scottsdale, Arizona, and is one of the early practitioners of the breakthrough technology known as Brainwave Optimization®. After experiencing remarkable relief from social phobia symptoms following Brainwave Optimization®, she decided that she wanted to help others by offering the service in her hometown of Nashville. Polly meets with patients that have common complaints of sleep disorders, stress, anxiety, insomnia, addiction, and inability to concentrate or focus.
About Brainwave Optimization® (HIRREM™)
High-resolution, relational, resonance-based, electroencephalic mirroring (HIRREMTM) or, as it's commercially known, Brainwave Optimization® (a product created by Brain State Technologies, LLC, Scottsdale, AZ), is a noninvasive procedure that uses a computerized system designed to reflect the brain's frequencies back to itself using musical tones.
About Nashville Neuro-Training
Nashville Neuro-Training offers Brainwave Optimization with RTB™ with a warm welcome and personal approach, while being respectful of your privacy and comfort. If you are coping with anxiety, sleep issues, insomnia, PTSD, depression, anger, addiction, ADD, or chronic pain, you may especially benefit from our services.
Conveniently located in Brentwood, TN, Brainwave Optimization® is provided at our office six days a week with extended hours and affordable prices for initial assessments and sessions to everyone. Contact Nashville Neuro-Training to schedule an appointment or learn more about this breakthrough technology.
Brainwave Optimization with RTB™ (Real Time Balancing) is intended to facilitate relaxation and auto-calibration of neural oscillations. Individual results may vary. Brainwave Optimization with RTB™ is not intended to treat, cure, heal or diagnose any disease, mental illness or symptom. If currently under care with a primary care physician, therapist or other medical professional, you are encouraged to consult with them prior to beginning Brainwave Optimization with RTB™.